The threat of a US government shutdown increases.
The threat of suspension of federal government operations, so-called "government shutdown" increased this week after the Democrats boycotted the meeting with President Donald Trump and stiffened their position, making it virtually impossible to reach a compromise. Congress, to avoid the suspension of government activities, must adopt the necessary budget acts by December 8, or at least extend the budget provisional, thanks to which the federal government functions from the beginning of the fiscal year which began in the US on October 1.This will be very difficult because the attention of President Trump and the Republicans is completely focused on the actions aimed at adopting the bill on reforming the tax system by the Senate.
Meanwhile, Democrats are demanding that a possible agreement ensuring further financial liquidity for the federal government would also cover the situation of approx. 690,000 illegal immigrants, who on average had 6.5 years, when they illegally crossed the territory of the USA. Those people, who are called "dreamers", (the dreamers of the acronym of the Act of Development, Relief, and Education for Alien Minors Act (DREAM)), are threatened with deportation if Congress does not find a solution by the end of March next year. President Trump has hoped to reach a compromise on the "dreamers" when, ahead of a planned meeting with Senate Democratic minority leader Senator Charles Schumer and minority leader of the Democratic House of Representatives, he wrote on Twitter: "Democrats want a wave of illegal uncontrolled immigration to flood the country. "and" are interested in raising taxes ".
If by December 8 legislators do not find a way out of this impasse, and immigration is not the only point of contention, the federal government, with the exception of key ministries such as defense and security, will cease its activities and government employees remain in unpaid homes. This might have a severe impact on financial markets, especially on the US Dollar which will likely depreciate across the board.
Let's now take a look at the USD/JPY technical picture in the H4 time frame. The market bounced from the technical support zone at the level of 110.85 and now is testing the black trend line just below the technical resistance at the level of 112.46. A breakout higher would lead to the test of the nearest resistance at the level of 112.72. The nearest support is seen at the level of 111.88.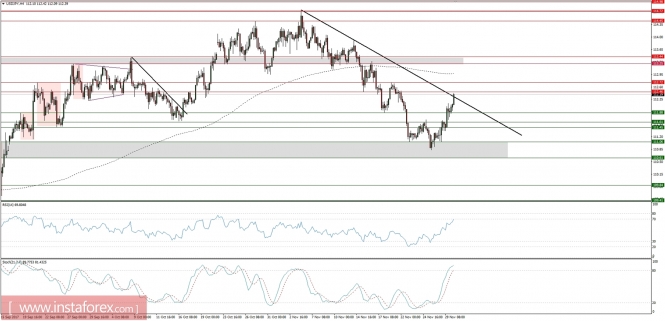 The material has been provided by InstaForex Company -
www.instaforex.com