Tim Draper, a technical investor who has helped create companies such as Skype, Tesla and Twitter, has a reason to praise Bitcoin because its $ 20 million digital currency investment has grown by over 1,000 percent in just three years. Draper predicts that in five years the fiat currency will be so outdated that it will be ridiculous. He first got involved in Bitcoin after he bought 30,000 units in the government auction of assets confiscated from Silk Road in 2014. While Draper may now be on the defensive after his ICO - Tezos - entangled in the scandal leading to a class action lawsuit, he is still very optimistic about the future of the father of all digital currencies. Draper told Forbes magazine: "In five years, if you try to use fiduciary currency, they will laugh at you. Bitcoin and other cryptanalysts will be so important ... there will be no reason to have a fiat currency."
Bitcoin and the rest of the cryptocurrency market have recently reached over $ 200 billion, and Wall Street has refueled the fire, announcing trading in Bitcoin futures. However, this is paltry in comparison with the trillions of dollars in the global supply of fiat money. However, the fact that Bitcoin gained more than 600% this year is enough reason to believe that it is on a wave of fluctuations towards the fictitious market. Draper explains what the constraints are, which really begin to harass the progressive and thinking global population. Crossing the border for any currency is never a pleasant or easy task. Nigeria's Naira falls by 30% when you cross the state line. Outside of Argentina the Peso in this country is almost worthless currency, and there are other countries where the situation looks very similar. In Zimbabwe and Venezuela currencies either disappear completely, or are on the verge of total collapse. Bitcoin knows what needs to be done to raise it.
Let's now take a look at the Bitcoin technical picture at the H4 time frame. The price has broken out above the 50% Fibo and now is trying to test the 61% Fibo at the level of $6,980. This level is almost in line with the key resistance level at $6,983, so both of them are creating a strong reversal zone. Moreover, the market conditions are close to becoming overbought, so the top of the wave 2 or B might be established soon around this levels.
With InstaForex you can earn on cryptocurrency's movements right now. Just open a deal in your MetaTrader4.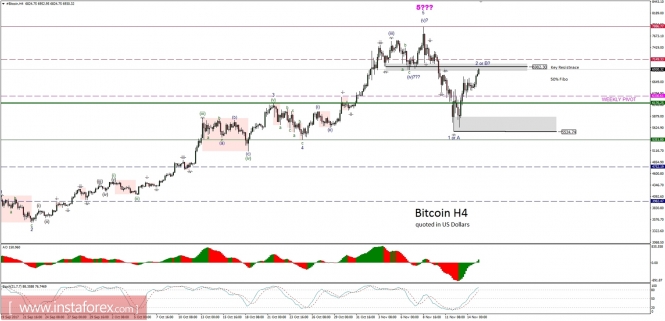 The material has been provided by InstaForex Company -
www.instaforex.com