Seventh in terms of population Eurozone country released a GDP growth of 8.8% in the third quarter of 2017 (8.6% in the non-adjusted season). This is a surprising result for economists as the market consensus was up by "only" 5.8%, which was a slight slowdown compared to 6.1% in the second quarter. In terms of quarterly growth, Romanian economic growth was 2.6% (seasonally adjusted data) vs. 2.0% in the first two quarters of the year. Data for the first two quarters have been revised from 1.8% (first quarter) and 1.7% (second quarter). The result above 8.8% indicates the fastest growing Romanian economy since the beginning of the crisis in 2008. Before the collapse of Lehman Brothers, the country recorded well over 10.0% annual growth.
The report contains only preliminary calculations, without the breakdown of individual components (such as consumption, investment). Final figures on the economy of Romania in the third quarter will be announced on 5 December.
The annual GDP growth of over 8.0% puts Romania at the absolute top of the world. Many countries still have not reported data for the third quarter, and among those who have already done so, the highest growth was reported by Vietnam (7.5%). By comparison, in China, GDP growth in the third quarter was "just" 6.8%.
Let's now take a look at the EUR/JPY technical picture at the H4 time frame. The bulls have managed to break out above the local technical resistance at the level of 133.50, but no new high was made yet. The price is currently testing the resistance (now support) from above and if this level is not clearly violated, the bulls will eye the next technical resistance at the level of 134.40. This level had been tested twice already, so the bull camp will have to try hard to break out above it and then sustain the breakout.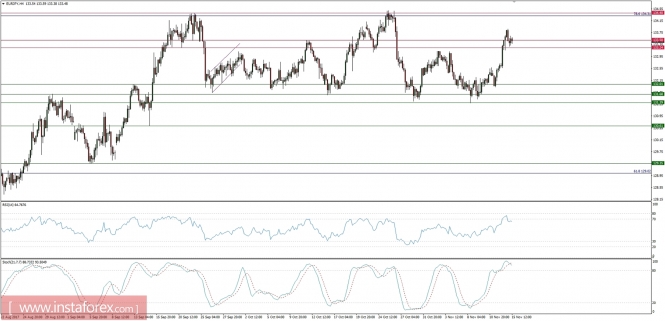 The material has been provided by InstaForex Company -
www.instaforex.com