A message from Mike Belshe, the chief spokesman, said it was "clear" that the project "did not reach enough consensus to make a clean upgrade of the blocks right now." Belshe's post states that "the Segwit2x effort began in May with a simple purpose: to increase the blocksize and improve Bitcoin scalability. At the time, the Bitcoin community was in crisis after nearly 3 years of heavy debate, and consensus for Segwit seemed like a distant mirage with only 30% support among miners." Belshe adds that "Segwit2x found its first success in August, as it broke the deadlock and quickly led to Segwit's successful activation." Moreover, Belshe states "our goal has always been a smooth upgrade for Bitcoin. Although we strongly believe in the need for a larger blocksize, there is something we believe is even more important: keeping the community together." Belshe concedes "it is clear that we have not built sufficient consensus for a clean blocksize upgrade at this time. Continuing on the current path could divide the community and be a setback to Bitcoin's growth. This was never the goal of Segwit2x."
SegWit2x met with great opposition from the entire Bitcoin community, and several of its followers were under pressure to justify their decision. No replay protection - a mechanism to prevent accidental use of coins on both chains - was the main criticism that even Nick Shabo had opposed SegWit2x.
Let's now take a look at the Bitcoin technical picture at the H4 time frame. The sudden drop from a new high at the level of $7,886 did not result in a technical support violation of the level of $6,987 yet. The top might be labeled as the wave (v) high and the overall impulsive cycle from the level of $2,956 termination, despite the fact, that the projected target at the level of $8,356 has not been reached yet.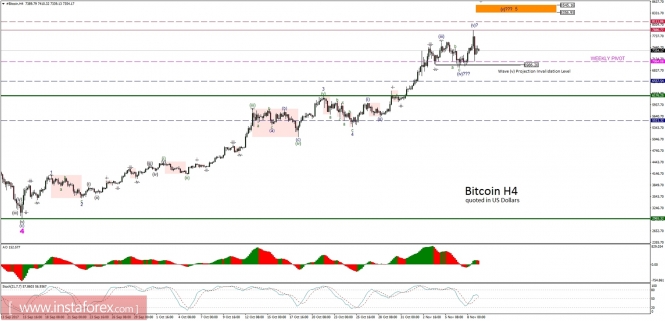 The material has been provided by InstaForex Company -
www.instaforex.com