Trading plan 10/13/2017
The overall picture: The pair EUR/USD is under pressure. We turn on caution.
On Friday morning, it became known that the ECB decided to reduce the program of liquidity injections into the markets from January next year by 2 times, from 60 billion euros per month to 30 billion per month. Thus, on the one hand, tightening the monetary policy of the ECB and the equivalent of raising the euro rate but, on the other hand, this is a bad news for the euro area economy and a minus for the euro. In addition, the intrigue around the ECB meeting on October 26 disappeared. The information is unofficial, but there is no doubt that this is the preparation of markets by the ECB, quite consciously.
Anyway, the growth of the euro lasted a week, since October 6 and stopped, the euro under pressure.
We "include caution", our purchases from 1.1790 put a stop-loss in breakeven.
Purchases are now only from 1.1770. It is also possible to purchase a breakthrough maximum of 1.1880.
Sales for a breakthrough down 1.1668.
Today at 13.30 London time, important news on inflation in the US. Expect a rise in inflation. If so, then a sharp decline in the euro.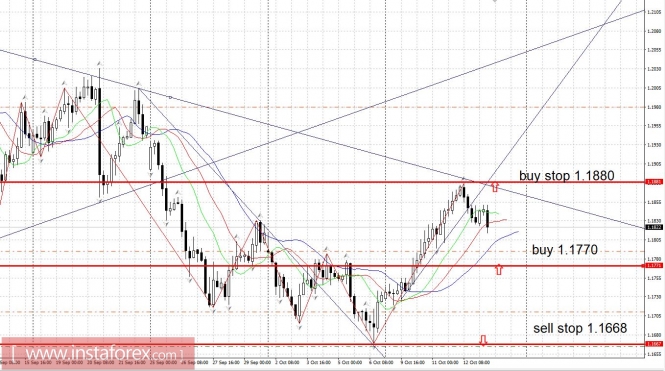 The material has been provided by InstaForex Company -
www.instaforex.com