Bitcoin analysis for 24/10/2017:
The planned Bitcoin fork will be held not on 25/10/2017 as originally announced, but the day before, at the height of block 491407, when miners begin to form blocks with the new proof-of-work algorithm, Equihash. Of course, Blockchain Bitcoin will remain the same, while the new segment will be split from the original chain. This will be the second division of Bitcoin this year. Users have received their BitcoinCash (BCH) portfolios, now it's time for BitcoinGold (BTG).
BitcoinGold has focused on a group of developers and miners supporting its development. These are Jack Lia or CEO of Hong Kong LightningAsic. The project is also expected to support Jinse.com, the Chinese mining tycoon and the owner of the Bitcoin information portal. The main developer is under the pseudonym H4x3 and remains anonymous. BTG will be received exactly the same way as BitcoinCash. BitcoinGold will receive Bitcoin holders in a 1 to 1 ratio. To be sure BitcoinGold is given, you must have your own BTC private keys. The exchanges are not obliged to pass on "extra Bitcoin" and here everything depends on their policy. It should be borne in mind that some companies have not yet transferred their users to BCH today.
Full implementation of the proof-of-work system or implementation of replay protection is currently not ready and many people, despite the assurances of their creators and their good intentions, have serious doubts about BitcoinGold. Developers recommend caution in making transactions, especially at the beginning before the BTG stabilizes. The price of the currency remains a mystery, while it is expected that initially, the BitcoinGolg unit can cost about $300.
Let's now take a look at the Bitcoin technical picture at the H4 time frame. The corrective cycle in wave 4 continues and the first target for wave 4 low has been projected at the level of $5,092. The second target is projected at the level of $4,968. Only a sudden, violate breakout above the wave 3 top at the level of $6,168 would invalidate the short-term corrective bearish scenario.
With InstaForex, you can earn on cryptocurrency's movements right now. Just open a deal in your MetaTrader4.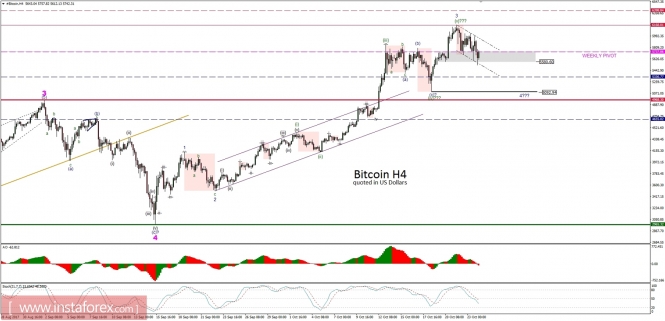 The material has been provided by InstaForex Company -
www.instaforex.com