Global macro overview for 12/09/2017:
The US public debt just passed $20 trillion for the first time in history. According to data released by the Treasury Department, US public debt is already $20,162,177,774,904.13 (twenty trillion one hundred sixty-two billion one hundred seventy-six million seven hundred ninety-seven thousand nine hundred four hundred and thirteen cents). Just a six months ago the US debt surpassed $19 trillion, so the pace of indebting the country is surprisingly fast. This amount consists of government debt ($5,539,515,584,857.14) and in the hands of other entities ($14,622,661,213,046.99), for example, domestic and foreign individual and institutional investors. In relation to GDP, US debt is close to 104%.
US public debt growth accelerated after the financial crisis began, and Barack Obama moved to the White House. Since January 20, 2009, when the 44th president took office, until Donald Trump's takeover of the cabinet, US debt grew by a nominal $ 9.32 trillion, up 87.7 %. For comparison, during the presidency of George W. Bush, 4.89 trillion (+85.5%) came from the debt count, while the total of 42 presidents gained only $5.72 trillion. It is worth to add that since the inauguration of Donald Trump (January 20, 2017), US debt has increased by 1.1% only. Of course, such situation is due to not only an excessive inclination to reach the public money, but also a radical decline in the purchasing power of the US Dollar. Even based on the imperfect CPI indicator, it can be calculated that one dollar in 1913 had a purchasing power comparable to today's $25.
Last Friday Donald Trump agreed to the Democrats' proposal and postponed a deadline to raise the federal government's debt ceiling until December 15. By doing this, Trump's administration avoided the "government shutdown" procedure again but did not resolve the public debt problem.
Let's now take a look at the US Dollar Index technical picture on the H4 time frame. The bounce from the oversold market conditions wasn't so far strong enough to break out above the golden trend line resistance and the upward momentum starts to diminishing again. The next immediate support for the bulls is seen at the level of 91.62, but as long as the level of 92.54 is not clearly violated, the bears remain in control over this market.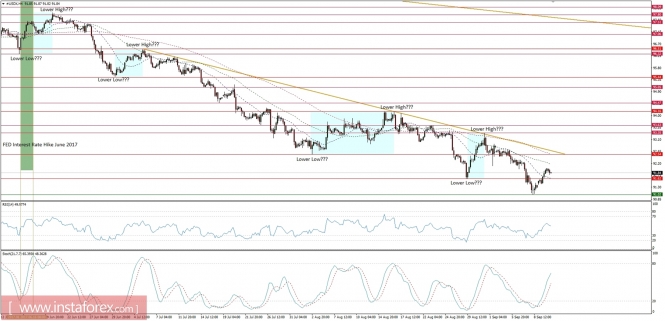 The material has been provided by InstaForex Company -
www.instaforex.com