EURUSD will fall due to elections in Germany.
Last minute burning forecast 25.09.2017
The main event on Monday morning: the results of the elections in Germany - the elections strongly weakened Merkel, this will put pressure on the euro.
Merkel's Party (CDU) won first place (33%), but this is the worst result in nearly 70 years of elections, a 9% loss compared to the previous elections. The second concern - AfD got the third place with 12% ("Alternative for Germany") - a radical right-wing semi-fascists, many call them heirs of the Hitler party of the NSDAP.
But the main concern for Merkel is the Socialists (SPD), the second strongest party (20% of the vote) - which pulled out of Merkel's coalition and then went into opposition.
Thus, the only option for Merkel is to form a majority in the parliament - and get the post of Chancellor - head of government - in order to create a coalition with two small parties - the Free Democrats and the Greens - 11% and 9% of the vote. This makes Merkel and her government quite vulnerable and objectively weak.
The weakening of Germany's domestic authorities is inevitably weakening the EU as a whole.
This weakens the EURUSD pair.
We sell the euro from 1.1940 - and are prepared to sell for a breakthrough down from 1.1860.
The level of a cancellation in selling: 1.2005 - with the breakthrough of 1.2005 and afterwards we buy.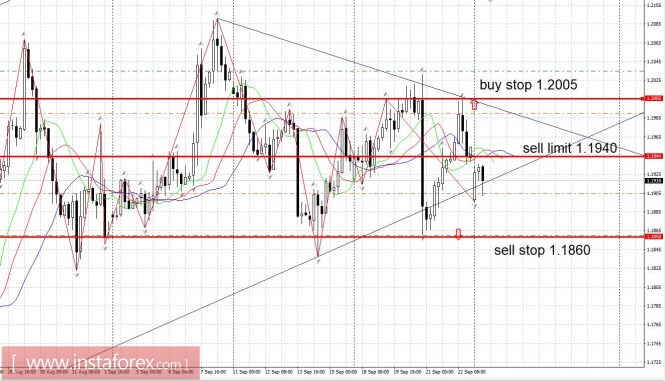 The material has been provided by InstaForex Company -
www.instaforex.com