Bitcoin analysis for 29/09/2017:
We recently heard about how Jamie Dimon, CEO of JPMorgan, who sharply criticized Bitcoin calling the whole system a great scam. Although his comments aroused response from investors and public opinion, he provoked other Wall Street financiers to submit their own opinion. This time, Jordan Belfort, the famous "Wall Street Wolf" follows JPMorgan CEO and criticizes Bitcoin.
Most importantly, "Wall Street Wolf" assumed the same position as Jamie Dimon and called Bitcoin a scam. Although on the other hand, he deeply believes in the concept of cryptocurrency. In his opinion, at present, cryptocurrencies are not a good financial instrument, as it is commonly believed. It is crucial for digital currency to have some "support" from central banks. For the moment, the whole structure is backed by artificial noise, similar to gambling. The scheme is not something that could be supported by, according to the Federal Reserve. Central banks will sooner or later have to create their own stable cryptocurrency. However, his biggest complaint against Bitcoin is a lack of security. Belfort is concerned about the lack of Bitcoin protection against hacker attacks. During the interview, he said: "The biggest problem I see in Bitcoin - personally I would never decide to buy it since it can easily be stolen when I hijack my phone. I know people who have lost all their money in this way." This attitude seems rather strange given that he is the person responsible for financial fraud.
The security issue had been raised many times in various interviews, articles, and comments made by various people from the financial world and it is not a new topic to talk about. This seems to be the number one problem that all of the enthusiasts of cryptocurrencies and blockchain technology must be aware of and one that is currently limiting the possibilities of this new technology.
Let's now take a look at the Bitcoin technical picture on the H4 time frame. The market is about to complete the fifth wave up. The projected target level is $4,342 or, in a case of extension, $4,661. Any breakout below the level of $3,805 will invalidate the bullish impulsive scenario. Please notice, the current market conditions are overbought which supports the overall bearish bias.
With InstaForex, you can earn on cryptocurrency's movements right now. Just open a deal in your MetaTrader4.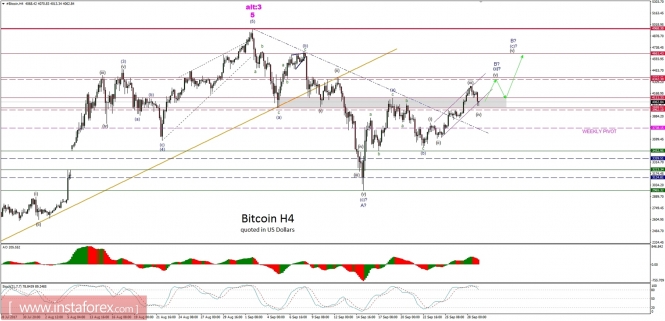 The material has been provided by InstaForex Company -
www.instaforex.com