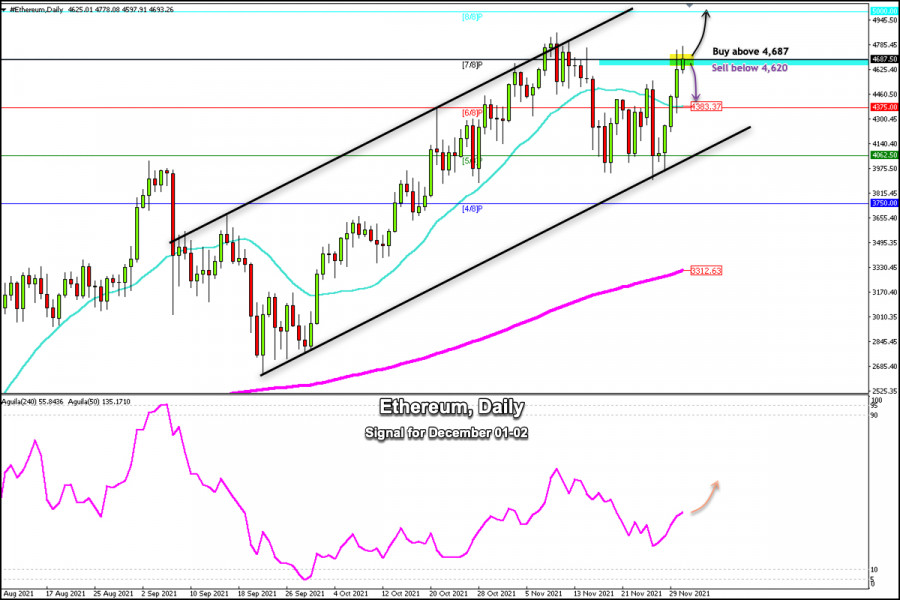 Ethereum (ETH/USD) had a strong rally in the last two days. So, its price has gained more than 20% and is trading at $ 4,690 at the time of this writing. ETH is expected to continue its upward trend in the next few hours to the psychological level of $5,000.
The price of Ether in daily charts is above the 21 SMA and 7/8 of Murray located at 4,687. It could be a positive signal with targets towards the psychological level of 5,000 where the line of 8/8 Murray is located.
On the other hand, consolidation below 4,620 could signify a bearish move and could challenge the strong support of 6/8 and the bottom of uptrend channel around 4,062.
A daily close below the psychological level of $4,000 will confirm the start of a downtrend. In this case, Ether will have as its objective the level of 3,750 (4/8). If this level is broken, the price could fall to the level of 3,312 (200 EMA).
Since ETH is correlated with BTC, it depends on the price of Bitcoin and how it reacts. A sudden BTC drop to the $ 50,000 level could weaken Ether that could lose its accumulated gains in recent days. However, a consolidation or an uptrend will help ETH.
Our trading plan for the next few hours is to buy above 4,687 with targets at 5,000. On the other hand other hand, if Ether closes below 4,620, sell with targets at 4,383 and up to 4,062. On the contrary, if it consolidates above the 21 SMA at 4,383, we can buy with targets towards 4,687 and 5,000 (8/8).
Support and Resistance Levels for December 01 - 02, 2021
Resistance (3) 5,214
Resistance (2) 4,983
Resistance (1) 4,804
----------------------------
Support (1) 4,570
Support (2) 4,162
Support (3) 4,062
***********************************************************
A trading tip for ETH December 01 - 02, 2021
Sell below 4,620 (7/8) with take profit at 4,383 (21 SMA) and 4062 (uptrend line), stop loss above 4,750.
The material has been provided by InstaForex Company -
www.instaforex.com