On December 4, BTC fell to the low of 41,642, this was the price level of September 30. The price ptinted a loss of more than 22% in a single day. This is the biggest drop since May 15, when BTC traded around 30,000.
The cryptocurrency market was overwhelmed by a general panic and the bullish positions worth of more than 2.5 billion USD were liquidated. BTC is now expected to consolidate below the psychological level of 50,000.
In our analysis of December 2, we noted a shoulder head shoulder formation. This pattern reached its target when BTC fell to the low of 41,640. You can review the full report here and get some details of this strategy.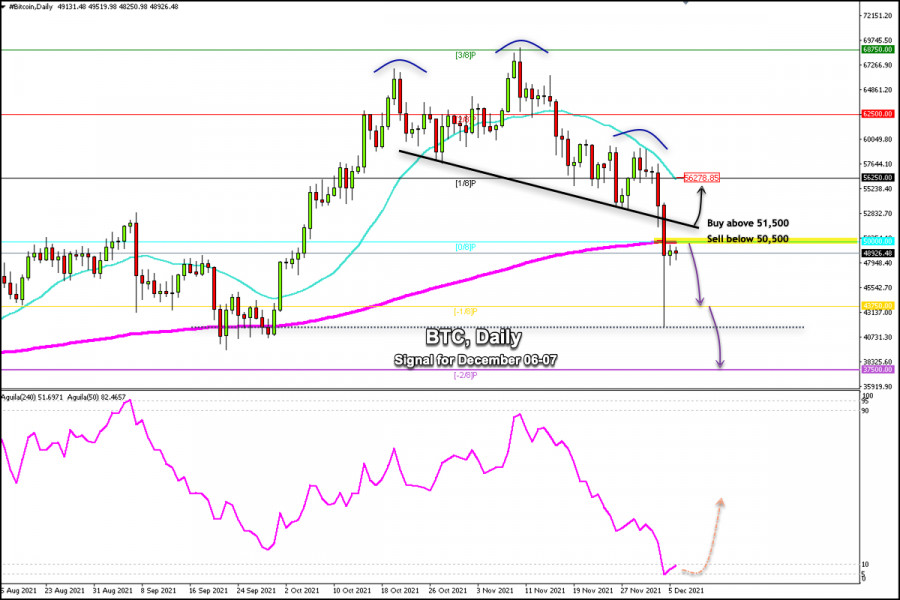 According to the daily chart, BTC is now below the 21 SMA and below the 200 EMA. This provides a negative signal so that BTC could continue its decline to the psychological level of 40,000.
If BTC consolidates above 51,500 in the next few days, there could be a recovery to the resistance zone of the 21 SMA located at 56,278.
On the contrary, while BTC remains below the psychological level, it is expected to trade within a price range between 50,000 - 43,750.
On December 4, the eagle indicator reached the level of 5 points which represents an imminent technical rebound. Therefore, if BTC falls to the support of 43,750 in the next few hours, it will be a good buying opportunity around this level.
Our trading plan is to wait for a pullback through the 200 EMA at 50,000. At this level, it will be a good opportunity to sell with targets at 43,750 (-1/8) and up to the -2/8 of Murray located at 37,500.
Support and Resistance Levels for December 06 - 07, 2021
Resistance (3) 51,949
Resistance (2) 50,820
Resistance (1) 50,000
----------------------------
Support (1) 46,898
Support (2) 43,750
Support (3) 40,812
***********************************************************
A trading tip for BTC on December 06 - 07, 2021
Sell in case of a pullback at 50,500 (200 EMA) with take profit at 43,750 (+1/8) and 37,500 (-2/8), stop loss above 51,600.
The material has been provided by InstaForex Company -
www.instaforex.com