Bitcoin collapsed by $15,000 in 4 hours.
Anyway, what it meant to be has occurred. It has been repeatedly mentioned that bitcoin is an extremely volatile investment instrument and not a currency. Therefore, it can easily show an exponential rise as well as a substantial fall. On Saturday, bitcoin plunged by $15,000 in 4 hours. However, it immediately pulled back, and the rate went down to $42,000 per coin. Remarkably, traders did not react to the US nonfarm payrolls report yesterday. Moreover, it is a significant report that could have triggered some moves in bitcoin. Overall, now crypto investors are also focused on the Fed's monetary policy and what changes will be implemented to it at the next meeting. However, this is not the point. So far, it is not clear what caused Saturday's rally. There are probably some reasons, or just a new wave of sell-offs was likely to start, which is fairly typical of the cryptocurrency market. It is evident that bitcoin cannot rise forever. According to Glassnode data, large investors and institutions own most coins. However, cryptocurrency requires a sustained increase in demand or a restriction in supply to rise consistently. Besides, no global cryptocurrency is immune to being sold off and losing half of its value as it is not a currency issued by a central bank, interested in its stability. Cryptocurrency is not managed by anyone, i.e. it can move in either direction.
Bitcoin's key problem is that it is not used as a means of payment.
The main obstacle to bitcoin is that it is not used as a means of payment, which it was originally designed for. Some bitcoin transactions are certainly payments for goods or services, but mostly bitcoin is bought to make it rise and generate profit to its owner. It is increasingly widespread at times of global high inflation, when the amount of money has been increasing for a year and a half (besides, this process continues!!!), equities are depreciating and investors are seeking ways to overcome it. Imagine bitcoin to be used as an internet currency, the equivalent of regular one. In this case, bitcoin would be stable. Nowadays, as soon as the worldwide economic situation changes, the cryptocurrency market starts moving in various directions. If there is more money in the economy, the cryptocurrency market is growing. If investors expect the Fed to start tightening and inflation to start slowing and rates begin to rise, cryptocurrency starts to fall. Therefore, bitcoin is subject to market sentiment, which is highly dependent on the overall economic situation. Thus, bitcoin is doomed to rise and fall, generating profits to some investors and making losses to others. It is typical capital redistribution.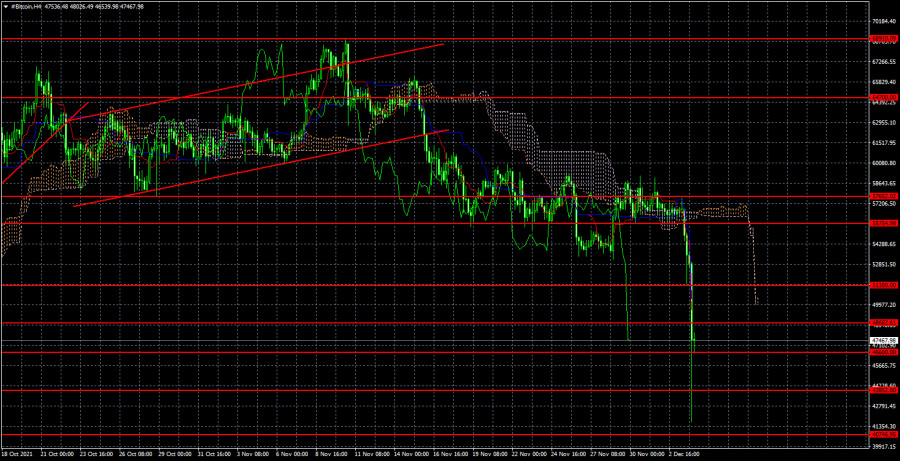 A downtrend is observed on the 4-hour timeframe and so far Saturday's fall is even difficult to describe and fit into the current technical picture. Obviously, the downturn continues. However, it will take some time for the market to calm down. Then, it will be possible to observe bitcoin's final position and what levels will be around. So far, the sell-off is likely to continue. By the way, it is not surprising that bitcoin fell about $42,000. The last local low is exactly at this level. Accordingly, there were large pending buy orders, which stopped the fall.
The material has been provided by InstaForex Company -
www.instaforex.com