Bitcoin climbed to $50,000 per coin on Tuesday, retracing a growth scenario within the range between support at 48,178.13 and the resistance area of 52,000.18 - 529,29.15.
Is the current growth already enough to assert that the risk of a "dead cat bounce" has passed?
From a technical point of view, in my opinion, it will be possible to talk about this after the breakout and consolidation above the resistance zone of 52,000.18 - 52,929.15. A month ago, the price collapsed from this level drawing two bearish flags in the process of moving into the area of $40,000 per coin.
From the point of view of analyzing the flows of cryptocurrencies, as noted in yesterday's review, the difference between the inflow and outflow of the coin remains negative so far. This means that investors are more and more intent on keeping their cryptocurrency, counting on growth. Whereas, according to the data of previous periods, the "dead cat bounce" (short-term growth before recession) was accompanied by the predominance of inflow over outflow.
There is also a third hopeful argument - an increase in investor activity. According to a weekly report from CoinShares, investors poured $68.7 million into Bitcoin products in the week of October 1. This is the highest figure since April 19. Ether-backed assets brought in $20.2 million, up from $28.9 million in the previous week. Also, according to data from Coinbase, bitcoin and ether increased in value by almost 18% over this period.
The report says that confidence in Bitcoin is growing among investors thanks to recent "compliant statements" from the US Securities and Exchange Commission and the Federal Reserve. A significant contribution to this growth was made by the fact that Fed Chairman Jerome Powell said that he did not intend to ban cryptocurrency after China.
Finally, the approval of a Bitcoin ETF can be a strong driver for market growth. And although none of them have been approved yet, some small progress in this direction is observed.
So, the SEC postponed the deadline for the approval of the first exchange-traded bitcoin fund until November 21. This delay gives some hope as the regulator did not issue a negative decision.
Analysts note that the market is beginning to believe that the SEC is really ready to make a positive decision. Therefore, expectations are likely to support the price.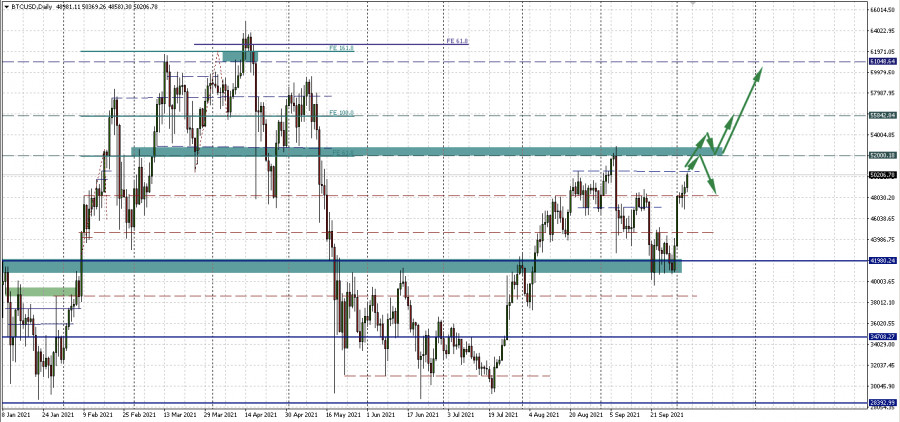 The material has been provided by InstaForex Company -
www.instaforex.com