Global stock markets are mostly rising as they wait for new stimulus measures from Europe and the US. This will be a driver for economic recovery. Growth in Asian countries, particularly China, also raises hopes that the global economy will recover faster than most recently anticipated.
The markets received a positive signal after the news on the start of mass vaccination in the UK. Another support factor was a report published by the FDA that Pfizer and Biotech's vaccines are safe and highly effective. Now we are talking about a 100% probability of approval of the vaccine for early use. Distribution of the drug in the United States may begin on December 11. There is a risk that pharmaceutical giants will face difficulties in mass production of the drug, but they are unlikely; almost zero according to experts.
Speculators, armed with the above knowledge, act ahead of the curve. Demand for risky assets is growing, which puts pressure on safe haven currencies. In our case, we are talking about the US dollar, whose decline is gradually increasing. Attempts to restore it are leveled immediately after the news on the introduction of support measures for the American economy was given. The probability of accepting incentives is getting higher every day. The day before, Treasury Secretary Steven Mnuchin introduced a $916 billion bill to Nancy Pelosi. Republicans have already spoken out in favor of this document. This is encouraging for investors, as congressmen have not been so close to a compromise in recent months.
Such events contributed to the growth of risky currencies. In particular, the Australian Dollar and the Chinese Yuan grew against the US Dollar. By the Yuan, the US currency sank to 6.5198 in offshore trading. This was the lowest value since June 2018. Thus, the Chinese currency has risen by more than 10% compared to May lows.
The Dollar has seriously sunk against the Euro in recent weeks. Europe, according to macroeconomic publications, is ahead of the United States. Nomura analysts expect the dollar to weaken in 2021 and risk appetite to grow. The Euro may reach 1.28 to the dollar by the end of next year, and the yuan may reach 6.2500 to the Dollar.
The Dollar index declined on Wednesday, although the rate of decline decreased after last Friday. The index touched the minimum level of April 2018 at 90.47.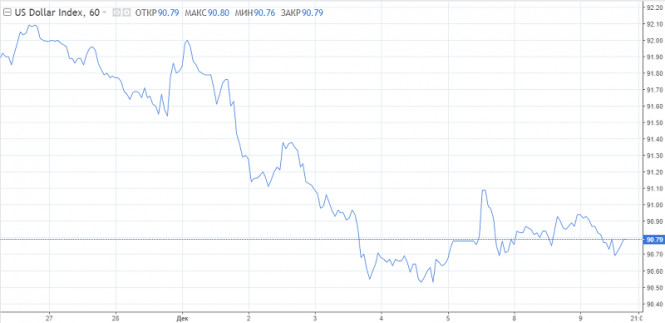 The US Dollar index continues its downward trend. The border at 91 is still a wall and buyers can't break it. In the same area, there are lines of medium and long-term trends. Although we are dealing with failed attempts to break up the value of 91, we should not exclude the development of events in favor of the Dollar. If the bulls still manage to storm the unyielding height and close the session above the level of 91, it will be possible to pay attention to purchases. In the meantime, positions for sale remain relevant.
The material has been provided by InstaForex Company -
www.instaforex.com