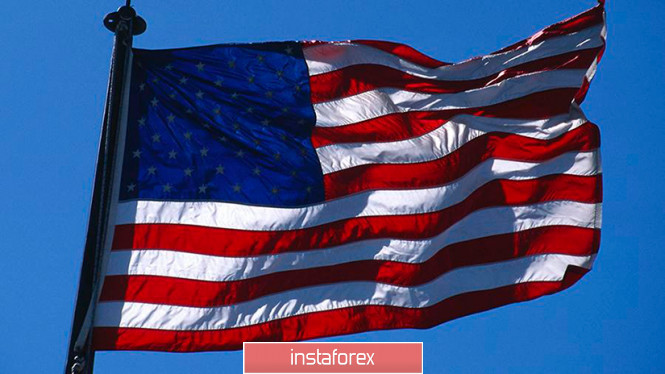 The theme of the presidential election remains the number one topic in the United States. Despite the fact that the trade standoff between the United States and China is no less important, which threatens to result in a full-scale "cold war", or an epidemic of "coronavirus", it is on who will become the next President of the United States that a lot depends on this country. It is no secret that if the President was already not a businessman-Trump, but for example a more conservative Biden, it is likely that the bet would be made on the fight against the "coronavirus", and not on the recovery of the economy. And that would have saved perhaps tens of thousands of lives. Of course, it is unlikely that the administration of another President would have completely abandoned the economic priority and introduced a new "lockdown", but it is possible that much more attention would have been paid to the pandemic. The same applies to foreign economic policy. Trump fully adheres to the principle described in George Orwell's 1984 book "War is peace, peace is war". In other words, it is normal for Trump to constantly be in a state of conflict with other States, with other political forces, with journalists, with NBA players, the list can go on indefinitely. Again, we are not saying that other countries never come into conflict with anyone. Everyone is in conflict, since it is about protecting national interests. But someone comes into conflict only in extreme cases, when there are no other options left, and someone believes that this is the best way to solve all problems. What the United States came to thanks to this method of solving problems is now seen by the whole world. It was America that was mired in an epidemiological, economic, political, and social crisis. And most importantly, the situation has not improved much yet. For example, the COVID-2019 pandemic has declined, but fewer than 40,000 cases per day are not recorded. This means that Americans continue to get infected, get sick, and are banally afraid to lead an active social life. Naturally, in such conditions, economic recovery will not only be difficult, but also high unemployment continues to require huge cash injections. In addition to all the above problems, Democrats and Republicans can not agree on a new package of financial assistance to support the unemployed and small and medium-sized businesses. And again, everything passes through the prism of future elections. Democrats are pushing for $ 3 trillion, clearly expecting that such generosity will add points to Joe Biden, and Donald Trump is offering only $ 1 trillion, as he wants Americans not to sit at home on unemployment benefits (which some have higher wages), but rather to return to work, and the economy is recovering.
And in addition to all the above-mentioned crises, political skirmishes continue in the US government. In principle, this is not surprising. In any country where there is at least some hint of democracy, there are several leading political forces that naturally criticize each other and fight for power. However, in the States this year, everything has long been beyond the bounds of decency. Trump has repeatedly allowed himself to insult representatives of the Democratic party, in particular Joe Biden, Nancy Pelosi, Barack Obama and others. In turn, the Democrats do not stop throwing mud at the President and all this is called "power struggle". "He showed no desire to go deeper into the work. No desire to use enormous power to help anyone other than yourself and your friends. No desire to make the presidency something other than another reality show in order to get the attention that he loves so much," Barack Obama said at the Democratic Party convention. And, in principle, if we abstract from political wars, Obama is absolutely right. For Trump, attention is everything. Perhaps never before in the United States has there been a President who manages to give several interviews a day, comment on absolutely everything that is happening in the world, and simultaneously manage to actively maintain their accounts in social networks. The question arises, when does Trump rule the country? It is clear that his social media accounts are not maintained by him personally, but in his comments, he repeatedly referred to his statements on Twitter. That is, the President is aware of what is published in his accounts. For example, do you often see interviews, statements or speeches by Angela Merkel or Emmanuel Macron? Well, the very essence of Trump's statements has long been a byword. We have already repeatedly written that according to the calculations of several well-known editors, for almost 4 years of the government, Trump misled his comments at least 20,000 times. That is, the US President makes false statements about 15 times a day. Think about it, the President of the United States makes 15 false comments every day. And this is not a study of the enemy media, this is a study of the American media. This is the kind of support Trump has in America itself.
"I see the horror that he left us, and how stupid he was in all his business. Look how ineffective a President he was! The main reason why I am now standing before you as President is called Obama and Joe Biden!", said Donald Trump. However, he constantly forgets that the new recovery of the US economy after the crisis of 2008-2009 began just with Barack Obama. It was under him that the US economy began to grow again, and Trump only continued the work of Obama. Moreover, in addition to Trump, no one criticizes Obama and even more so Biden for some reason. Have you seen at least one interview of any Republican in which he criticized the former President and his administration? It is possible that such an interview is, but these are isolated cases. For example, one Donald Trump a day can more often criticize Biden and Obama than all the Republicans combined over the past 4 years.
Finally, new results of sociological research. In the most important States, Joe Biden still leads. In Arizona, Florida, Michigan, Minnesota, Nevada, New Hampshire, Ohio, Pennsylvania, Virginia and Wisconsin, Biden leads the polls. Trump is ready to support in Georgia, Iowa, North Carolina and Texas. Attention! In all States except Texas, Trump's advantage does not exceed 2%. Biden leads in all of his States with a 5-10% advantage.
Thus, in our subjective opinion, which is based only on the realities and prospects of the currency market and the US dollar, in particular, it would be better if Joe Biden became the new US President. And so far, that's exactly what it's all about. However, the election is still about 2.5 months away.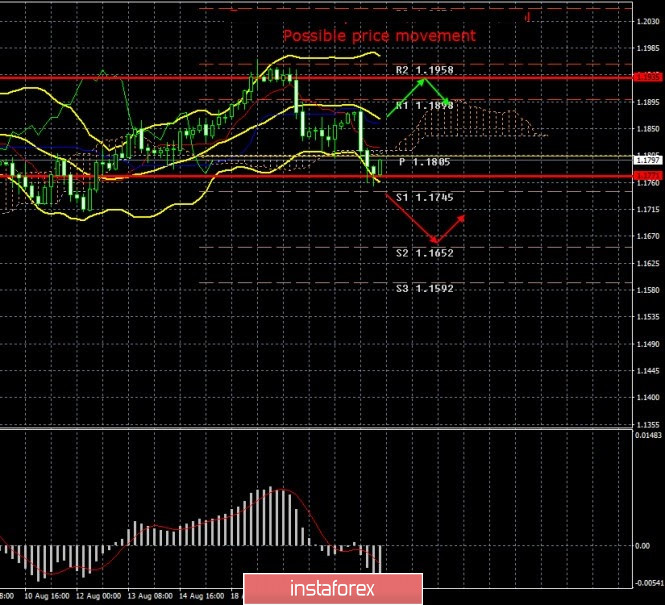 Trading recommendations for the EUR/USD pair:
The technical picture of the EUR/USD pair shows that the price has finally started to move down, but it is absolutely unclear how long it will continue. A new "dead cross" has been formed, and the Ichimoku cloud has been overcome. Thus, the bears managed to overcome the key obstacles to the march to the south. At the same time, a very weak fundamental background from overseas may simply not cause market participants to want to buy the US dollar.
The material has been provided by InstaForex Company -
www.instaforex.com