GBP/USD 1H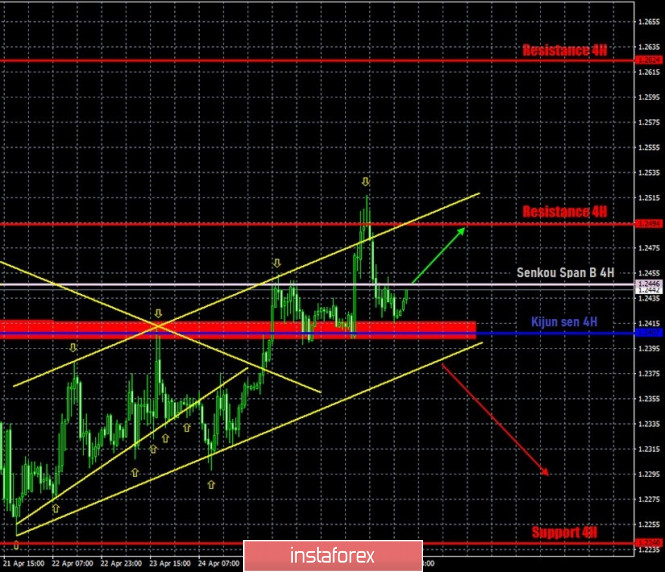 A complicated picture emerged for the pound/dollar pair on the hourly chart on April 29. There is an ascending channel that has six reference points at once. So the channel is strong. The pair's quotes worked out its upper line yesterday and rebounded off it. However, since this rebound, the pair has also managed to work out a strong area of levels of 1.2403 – 1.2416 (red rectangle), from which the quotes have repeatedly rebounded, and which now acts as a support area. According to the last movements of the pair, there was a rebound from this area again. Thus, the British pound could now return to the upper line of the channel and even go above it. And there are no prerequisites for a downward movement right now.
No statistics from the UK are scheduled for Wednesday. Therefore, the macroeconomic background for the pound/dollar pair will be the same as for the euro/dollar pair. The only difference is that the pound has already formed a more or less convincing upward trend. Accordingly, the chances of growth of the GBP/USD pair are much higher due to technical factors. The US GDP report and the evening summary of the FOMC meeting could have an impact on the pair's movement, but we believe that it is possible to close all positions before the evening or prepare for Jerome Powell's speech. In fact, the intrigue of today is how much contraction the US economy will show in the first quarter and how this reduction will be evaluated by the Fed. The worse the data on these two events, the more likely the pair will continue to grow. Thus, on April 29, we have two main options for the development of the event:
1) The initiative for the pound/dollar pair is still in the hands of buyers, since the price continues to be located inside the ascending channel. The pair's quotes rebounded from the strong support area of 1.2403-1.2416, so now traders are advised to trade for an increase while aiming for a resistance level for the 4-hour chart of 1.2494. In this case, Take Profit can be around 40 points. According to the current technical picture, it is possible for the pair to sharply grow when the level of 1.2494 is broken.
2) Sellers will be able to trade down again only when the quotes leave the ascending channel and have managed to overcome the support area of 1.2403-1.2416. Thus, it is necessary to consolidate at 1.2390 (approximately) and only after this condition is met, it will be possible to open short positions with a fairly long-term goal of 1.2240 (the support level of the 4-hour timeframe). In this case, Take Profit can be up to 140 points. The interim target is 1.2334 – the lower level of volatility on April 29.
The material has been provided by InstaForex Company -
www.instaforex.com