Crypto Industry News:
A United States District Judge ruled that a previous sanction ordering Craig Wright to hand over half his Bitcoins to Dave Kleiman is not valid.
Judge Bruce Reinhart issued a ruling in August on sanctions in a lengthy court battle over an alleged 1.1 million Bitcoin mined by Wright and Kleiman as part of a partnership in the early days of Bitcoin, shortly after Wright claimed to have invented it.
According to court documents filed with the US District Court in Florida on January 10, Judge Beth Bloom ruled that Reinhart's previous sanction order was inappropriate.
As previously reported in August 2019, Reinhart ruled that Wright had lied in presenting forged documents and recommended that he hand over 50% of the more than 1 million Bitcoin he allegedly extracted with Kleiman. However, a recent ruling states that this sanction was not appropriate because the recognized facts (that Wright had an equal partnership with Kleiman) do not specifically relate to the discovery of Bitcoin.
However, Judge Bloom concluded that Wright had not made good faith efforts to comply with the injunctions and should continue to pay attorney fees at Kleiman Estate. Last November, Kleiman Estate filed an application for legal costs of $ 658,000. This caused Wright to react immediately with a counterattack, asking to be thrown out because both the hours worked and the hourly rate were "unreasonable".
Technical Market Overview:
The BTC/USD pair has made another marginal higher high at the level of $8,520 (at the time of writing the analysis) and continues to an uptrend. Please notice, that this high was made on lower momentum than the previous one, so there is a negative divergence present. Before, the pair har tested the technical support located at the level of $7,601 - $7,581 and bounced higher, which means, the support had been recognized by the market participants as valid and they wanted to resume the recent uptrend. Moreover, there is no possibility to move lower at the price of Bitcoin unless the support is clearly violated. The bulls have temporary control over the market and the odds for another spike up are high.
Weekly Pivot Points:
WR3 - $9,744
WR2 - $9,058
WR1 - $8,561
Weekly Pivot - $7,905
WS1 - $7,428
WS2 - $6,754
WS3 - $6,270
Trading Recommendations:
The best strategy in the current market conditions is to trade with the larger timeframe trend, which is still down. All the shorter timeframe moves are still being treated as a counter-trend correction inside of the uptrend. There is a possibility that the wave 2 corrective cycles are completed, so the market might be ready for another impulsive wave up of a higher degree and uptrend continuation.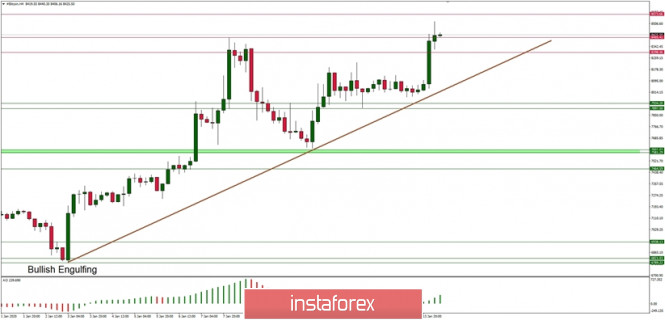 The material has been provided by InstaForex Company -
www.instaforex.com