The priority for the second half of the week is growth, as the pair consolidated above the WCZ 1/2 1.1013-1.1005 at yesterday's US session. It is important to understand that favorable prices for the purchase must be sought after the formation of the correction model. The first support will be WCZ 1/4 1.0998-1.0994. Testing this zone will allow you to consider the pattern for the purchase. The purpose of growth is the weekly CZ 1.1101-1.1085.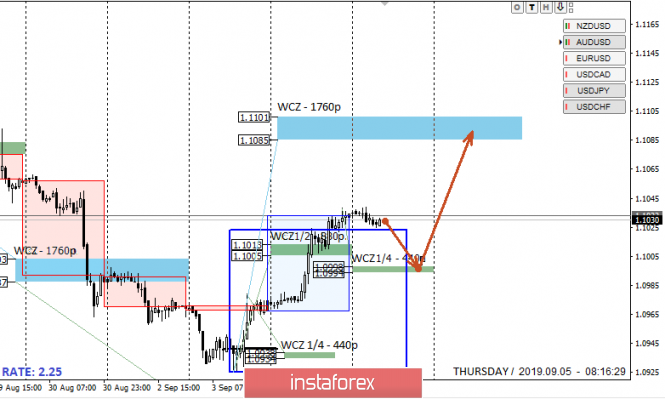 Work in an upward impulse involves updating local highs with a probability above 70%. This allows you to use any fall to search for entry points to the purchase.
An alternative model will be developed if the closure of today's US session occurs below the level of 1.0994. This will make it possible to form a local accumulation zone, and the movement within the framework of the current weekly extremes will become the main one by the end of the week.
Daily CZ - daily control zone. The area formed by important data from the futures market, which change several times a year.
Weekly CZ - weekly control zone. The zone formed by important marks of the futures market, which change several times a year.
Monthly CZ - monthly control zone. The zone, which is a reflection of the average volatility over the past year.
The material has been provided by InstaForex Company -
www.instaforex.com