Bitcoin – 4H.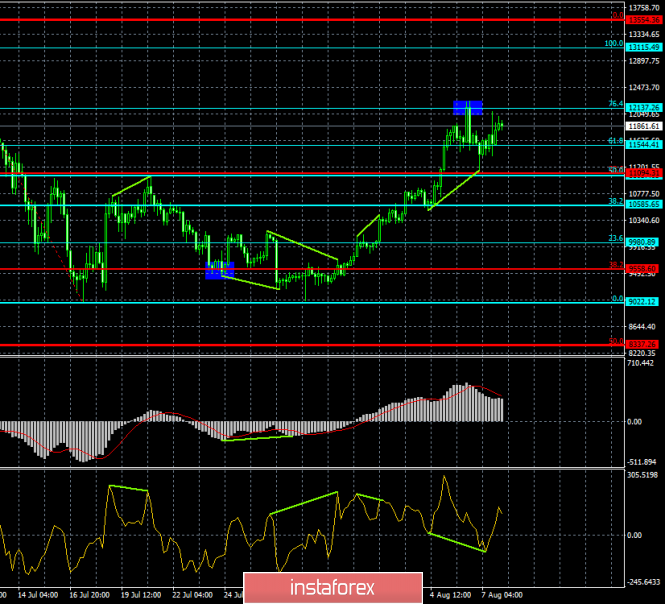 As seen on the 4-hour chart, Bitcoin began to show growth and has almost completed a return to the correction level of 76.4% ($12137) after the formation of a bullish divergence in the CCI indicator, from which the retreat was previously performed. The demand for the most well-known cryptocurrency remains high, since there are enough political, economic and trade problems in the world now, which increase the demand of investors and traders for assets that are more calm, "protective". These include the yen and franc currencies, and gold, and bitcoin. Thus, Brexit, the political wars in the UK, the trade war between China and the United States, the collapse of the Chinese yuan, all this creates a dangerous situation in the world markets and causes capital to flow from risky assets to low-risk ones. Given the fact that Bitcoin is still difficult to call an ideal tool to save the value of money, this function is still used by traders, but even here there is a desire for quick profits. After all, the essence remains the same: no matter why they buy bitcoin, because of the world crises, the threats of recession, the main thing that they buy, then the asset grows, so you can earn money. That's all logic. Thus, I expect further growth of "cue ball", especially if it is possible to perform consolidation above the Fibo level of 76.4% ($12137). The forecast of the founder of Heisenberg Capital Max Keiser of about $15,000 per coin until the end of the week is unlikely to come true, but to the level of $13,115, the cryptocurrency can grow for today or tomorrow.
The Fibo grid is based on the extremes of July 10, 2019, and July 17, 2019.
Forecast for Bitcoin and trading recommendations:
Bitcoin has made a return to the Fibo level of 76.4%. Thus, I recommend buying the cryptocurrency with the target of $13115, with the stop-loss order below the level of 76.4%, if the closure is performed above the level of $12137. I recommend selling bitcoin with the target of $11544, and with the stop-loss order above the level of $12137, if the rebound from the correction level of 76.4% is performed.
The material has been provided by InstaForex Company -
www.instaforex.com