4-hour time frame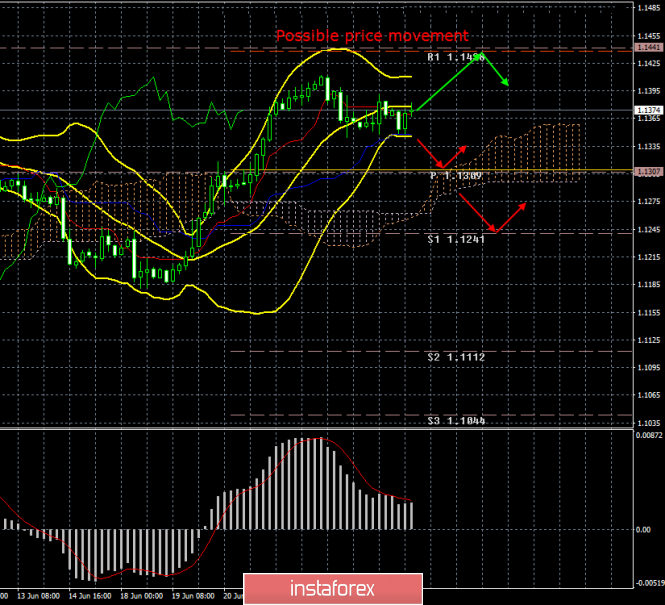 The amplitude of the last 5 days (high-low): 92p - 95p - 37p - 68p - 43p.
Average amplitude for the last 5 days: 67p (72p).
On Thursday, June 27, most traders expected that US GDP would be lower than expected in the first quarter. The reason for these expectations was the whole package of failed macroeconomic statistics in recent weeks. However, the real value of GDP was + 3.1%, which is fully consistent with experts' forecasts. Since there were no discrepancies between real and predicted values, the reaction of the Forex market to this most important report did not follow. As a result, we have more than a quiet end of the week and month, which was extremely saturated with fundamental events, meetings of central banks, speeches of their heads, as well as publications of macroeconomic reports. In the last two trading days of June, another very important event will take place - the G20 Summit, which is not so much interesting, as much as the venue for a meeting between Donald Trump and Xi Jinping. Many believe that the results of negotiations between the leaders of China and the United States can shed light on the topic of concluding a trade agreement between these countries. Thus, the result of this meeting may be either the introduction of new trade duties by Trump against Chinese imports, or significant progress in the negotiations, which both sides will definitely mark, since it makes no sense to hide such information. Also, the outcome of this meeting will depend on the Fed's decision on interest rates and stimulating the economy. Jerome Powell has repeatedly noted the high degree of risk associated specifically with trade wars. It is reasonable to assume that if one of them is completed, then there will be no point in easing monetary policy.
Trading recommendations:
The EUR / USD pair continues to adjust. Thus, long positions remain relevant for the euro / dollar pair with the target of 1.1438, and MACD reversal upwards or rebound from the Kijun-Sen line will indicate the completion of the downward correction.
It is possible to sell a pair of euro / dollar in small lots, if the bears will be able to gain a foothold below the critical line, with targets 1,1296 and 1,1241. In this case, the initiative for the pair EUR / USD may return to the hands of bears.
In addition to the technical picture, we should also take into account the fundamental data and the time of their release.
Explanation of the illustration:
Ichimoku indicator:
Tenkan-sen - the red line.
Kijun-sen - the blue line.
Senkou Span A - light brown dotted line.
Senkou Span B - light purple dotted line.
Chikou Span - green line.
Bollinger Bands indicator:
3 yellow lines.
MACD Indicator:
Red line and histogram with white bars in the indicator window.
The material has been provided by InstaForex Company -
www.instaforex.com