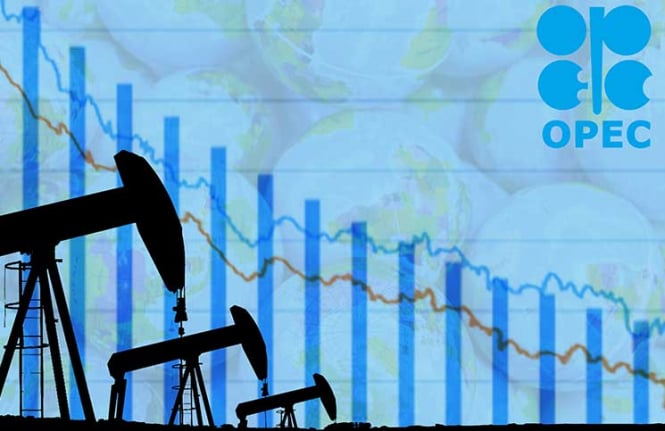 According to experts, last month the largest decline in oil production in the past two years was recorded by OPEC. According to the calculations of experts, the cartel executed a new deal by almost 80%.
On the part of Saudi Arabia, the leading exporter of black gold in the world, much stronger reductions in oil production were made than previously planned. The United Arab Emirates (UAE) and Kuwait can also boast a significant decrease in production.
According to an analytical survey, the production level of 14 OPEC countries decreased by 930 thousand barrels per day, to 31.02 million. Recall that the countries of the cartel and independent oil producers resumed their agreement to reduce production in December after a 40% drop in oil prices. In the end, OPEC + agreed to remove 1.2 million barrels per day from the market in order to achieve a balance of supply and demand.
A significant part of the cuts in the countries of the cartel is 800 thousand barrels per day, while the lion's share of them is unplanned. In this new deal should take part 11 members of OPEC, except Iran, Libya, and Venezuela. According to the survey, these 11 countries made 79% of the promised reductions in January 2019. However, they need to reduce production by another 170 thousand barrels per day in order to fully implement the agreement.
The authorities of Saudi Arabia have reduced the level of oil production by 450 thousand barrels per day, to 10.2 million, which is almost a third more than the terms of the transaction. Experts believe this reduction is impressive compared with a record production level of 11.1 million barrels per day, recorded in November 2018. As for Iran, in January of this year, the volume of black gold in the country reached 4.69 million barrels per day, which exceeded the planned amount of oil production. Against the background of anti-American sanctions, production in Iran fell by 150 thousand barrels per day, to 2.74 million.
In Libya, suffering from unrest after the fall of the regime of the former leader Muammar Gaddafi, in January of this year, 900 thousand barrels were produced, which is 100 thousand barrels less than the July figure. Export of black gold and other goods is difficult due to the closure of a number of oil terminals. Last month, a slight increase in production was recorded in Venezuela by 50 thousand barrels per day, to 1.27 million barrels. Earlier, the United States imposed large-scale sanctions against the state oil company of the country. Experts believe that this could be an actual oil embargo.
A meeting of OPEC + representatives in Baku is scheduled for March this year. On the agenda will be the question of the possible extension of the agreement on oil production in the autumn of 2019.
The material has been provided by InstaForex Company -
www.instaforex.com