4-hour timeframe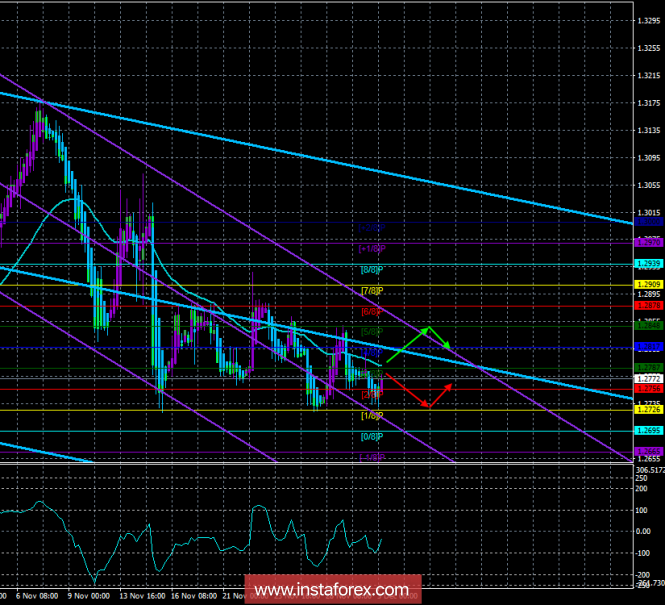 Technical details:
The senior linear regression channel: direction - down.
The junior linear regression channel: direction - down.
Moving average (20; smoothed) - down.
CCI: -9.5392
The currency pair GBP / USD on Monday, December 3, for the fourth time, failed to overcome the support zone of 1.2700 - 1.2720 and bounced off of it again. However, as we said earlier, each new rebound from this zone is accompanied by a smaller upward rollback than the previous one. Therefore, we believe that sooner or later this zone will be overcome. Unless, of course, the pound sterling does not receive unexpectedly weighty fundamental support. Meanwhile, representatives of the opposition Labor Party of the United Kingdom expect Theresa May to provide expert assessments of the agreements reached during negotiations with the EU. According to the Laborites, before voting for the most important document in the last 25 years, they must fully understand all the legal consequences of this transaction. Otherwise, it will be initiated upon the obstacles of the work of the parliament. As we see, the political crisis in Britain does not subside, and the confidence in the Prime Minister is still low. However, everything now boils down to only one thing, voting on the Brexit project in parliament. Everything else is now not so important. The pound sterling seems to understand this and does not want to overcome the zone of 1.2700 - 1.2720 until it becomes clear whether the bill of Theresa May will accept the parliament or not. Thus, we believe that until the day of the vote, the British currency will remain in limbo, but without serious jumps and falls.
Nearest support levels:
S1 - 1.2756
S2 - 1.2726
S3 - 1.2695
Nearest resistance levels:
R1 - 1.2787
R2 - 1.2817
R3 - 1.2848
Trading recommendations:
The currency pair GBP / USD has fixed below the MA, but at the moment, a new round of correction has begun. A reversal of the Heikin Ashi indicator downwards will indicate a resumption of the downward movement with targets at 1.2726 and 1.2695, however, we remind that the pair still has serious difficulties with overcoming 1.2720.
Orders for the purchase of small lots can be opened in the case of fixing the pair above the moving average line with the targets of 1.2848 and 1.2878. In itself, fixing above the MA is possible, but the pair may be extremely weak, as the pound still does not have fundamental support.
In addition to the technical picture, you should also consider the fundamental data and the time of their release.
Explanations for illustrations:
The senior linear regression channel is the blue lines of the unidirectional movement.
The junior linear channel is the purple lines of the unidirectional movement.
CCI is the blue line in the indicator regression window.
The moving average (20; smoothed) is the blue line on the price chart.
Murray levels - multi-colored horizontal stripes.
Heikin Ashi is an indicator that colors bars in blue or purple.
The material has been provided by InstaForex Company -
www.instaforex.com