The environment in the markets was marked by a strong recovery in global stock indices and, in general, by the strengthening of the US dollar thanks to, on the one hand, the strong US employment statistics from ADP, and on the other, the upward dynamics of the US technological sector's shares indices and markedly improved the overall mood of market players.
According to the data presented by ADP, the US economy received 227,000 new jobs in the private sector in October against the forecast of a decline to 189,000 from 218,000. These are really strong values, which indicate a positive dynamic in the economy, which became along with the rise of local stock market grounds for positive sentiment on global trading floors. Given this dynamic in the market, conversations began again that the recent decline in the stock market seemed to be only corrective, and it still has the potential to rise before the Fed raises the rates for the unacceptable level of stock purchases for borrowed money. All this indicates that the markets do not want to part with illusions.
Today, market attention will be attracted by the final decision of the Bank of England on monetary policy. The regulator is expected to leave interest rates at the same level as the total stimulus program (QE). The key interest rate of 0.75% and a volume of 435 billion pounds sterling, respectively.
How can the British currency react to the final decision of the Central Bank? In our opinion, no significant change in monetary policy should be expected from the local regulator. It is clear that it will not be in the wake of a slowdown in economic growth, a slowdown in inflationary pressure and the unresolved Brexit problem to change its monetary course. He can only express hopes that the situation with the UK leaving the EU will sometime be resolved, which will allow the bank to engage in forecasting and planning the necessary measures aimed at getting the country out of the crisis generated by the frankly stupid policy of the previous premier D. Cameron.
Forecast of the day:
The currency pair EUR / USD is trading below the level of 1.1345. Its pullback on Wednesday was amid a rise in risk appetite in the markets. If this trend continues today, the pair may continue to grow to 1.1390-1.1400, but for this, it needs to gain a foothold above 1.1345. If this does not happen, the pair may return to the level of 1.1300.
The currency pair GBP / USD is trading below the level of 1.2860 pending the outcome of the Bank of England monetary policy meeting. We do not expect any changes and believe that if the demand for risky assets goes down, then the pair may also roll back to 1.2660 after falling below 1.2825.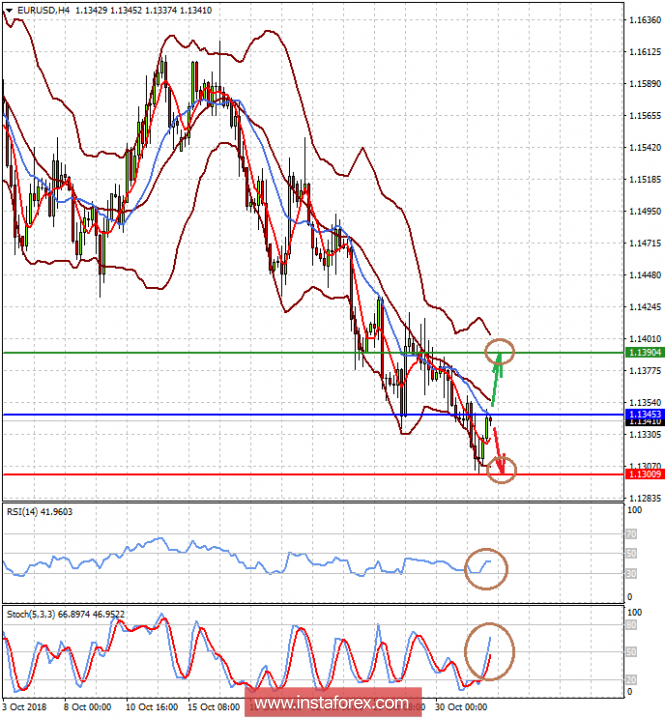 The material has been provided by InstaForex Company -
www.instaforex.com