The movement of last week was a reversal which allows you to keep sales open in the second half of the week. The first goal of the decline will be the weekly short-term stop 1.1288-1.1270, wherein the test of which will allow you to close a part of a short position.
Friday's fall exceeded the daily average which indicates the impulsive nature of the movement. Therefore, sales from current levels are no longer profitable, so the main plan for now is to keep the sales. In the case of corrective growth, you can search for favorable prices for sale. An important condition will be a favorable ratio of risk to profit of these transactions. The target of the fall is within the weekly short-term fault 1.1288-1.1270.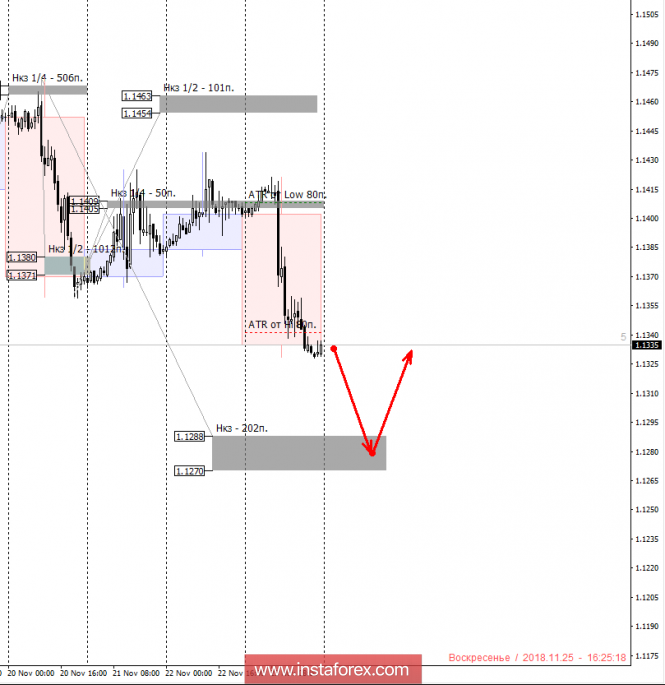 Additional sales are possible, as the bearish mid-term model has not yet been implemented. For profitable sales, it will require a growth rate to one of the lower control zones.
In order to break the downward pattern, absorption of the Friday fall will be required. The probability of such a movement is below 30%, which makes this plan secondary. Reversal movement from current levels is unlikely, which makes purchases unprofitable. Thus, the best strategy is to keep sales. First opportunities for shopping may appear after the test weekly short circuit. If this test leads to a strong increase in demand and the breakdown of one of the control zones, then purchases can be considered in the near future.
Daily CZ - daily control zone. The area formed by important data from the futures market which change several times a year.
Weekly fault - weekly control zone. The area formed by the important marks of the futures market which change several times a year.
Monthly fault - monthly control zone. The zone which is a reflection of the average volatility over the past year.
The material has been provided by InstaForex Company -
www.instaforex.com