4-hour timeframe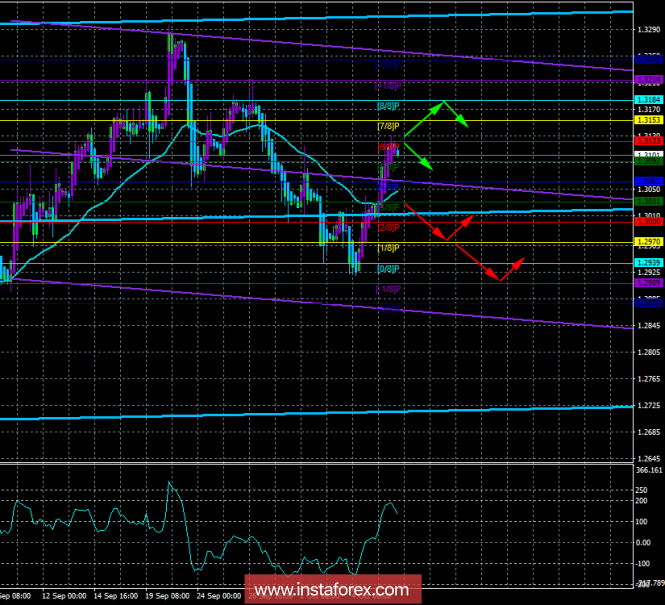 Technical data:
The senior linear regression channel: direction - sideways.
The younger linear regression channel: direction - down.
Moving average (20; smoothed) - up.
CCI: 125.1151
The currency pair GBP / USD on October 8, completed the level of Murray "6/8" - 1.3123 and can complete the upward movement around it. In general, we can say that the pound sterling has once again grown on the purest rumors. We have seen this picture several times in recent months. As soon as there is information that there has been a breakthrough in the negotiations for Brexit, the pound immediately grows. Then this information is not confirmed or completely refuted, and the pound begins to fall. So on Friday, it was reported that the parties were again "in the final stage" of the negotiations. It seems to be how the parties agreed on the Irish border and will now negotiate with the governments of Northern Ireland and Ireland. How does this information fit in with the fact that Theresa May refused to make concessions to Brussels and, moreover, even in this case did not find much approval either in Parliament or in her Party? Also, insider information appeared that London is still preparing to cede to the European Union in some key points of the agreement. What actually happens in the negotiations is unknown. All this information may be false. The next summit on negotiations on the withdrawal of Britain from the EU is scheduled for October 17, and the parties again assured everyone that they will work both day and night to reach an agreement before November.
Nearest support levels:
S1 - 1.3092
S2 - 1.3062
S3 - 1.3031
Nearest resistance levels:
R1 - 1.3123
R2 - 1.3153
R3 - 1.3184
Trading recommendations:
The currency pair GBP / USD rebounded from the level of 1.3123. Thus, a downward correction to the moving average is now possible. Based on this, it is recommended to open new buy-positions not earlier than the completion of this correction with targets at 1.3153 and 1.3184.
It is recommended to open a sell position if the bears succeed in regaining the initiative on the instrument in their hands and overcome the moving average. In this case, the targets for the shorts will be Murray levels of 1.3000 and 1.2970.
In addition to the technical picture, you should also consider the fundamental data and the time of their release.
Explanations for illustrations:
The senior linear regression channel is the blue lines of unidirectional movement.
The lower linear channel is the purple lines of unidirectional movement.
CCI is the blue line in the indicator regression window.
The moving average (20; smoothed) is the blue line on the price chart.
Murray levels - multi-colored horizontal stripes.
Heikin Ashi is an indicator that colors bars in blue or purple.
The material has been provided by InstaForex Company -
www.instaforex.com