The reduction of political tensions in Italy and Spain, as well as progress in the negotiations between the US and China on trade relations continue to support risky assets.
The European currency has crept up to fairly large levels of resistance, a breakthrough which will lead to a more significant upward wave. Any statements by European Central Bank officials related to the asset buy-back program may support further euro growth in the short term.
Yesterday, it became known that a government was formed in Spain, the main part of which included pro-European ministers. Thus, Spanish Prime Minister Pedro Sanchez showed his commitment to the European Union, and also strengthened the political influence of Spain in Brussels.
It is important to note that in Italy, things are completely different, where the government consists more of populists who oppose European integration.
Yesterday, it also became known that the progress of negotiations between the US and China is continuing, which allows reaching agreements in different areas. This was announced yesterday at the Ministry of Commerce in China. Despite this, details of the negotiations were not disclosed.
As for the technical picture of the EURUSD pair today, the upward trend will directly depend on the resistance area of 1.1830, the breakthrough of which will open new highs in the area of 1.1875 and 1.1920 for risky assets. To return to the bear market, it is necessary to reduce to a large level of support 1.1780.
The Australian dollar declined against the US dollar in the Asian session after the data on the surplus turned out to be worse than the economists' forecasts.
According to the report of the Australian Bureau of Statistics, the positive balance of Australia's foreign trade in April this year was 0.977 billion Australian dollars. Economists predicted that the surplus in the reporting period would be 1.0 billion Australian dollars.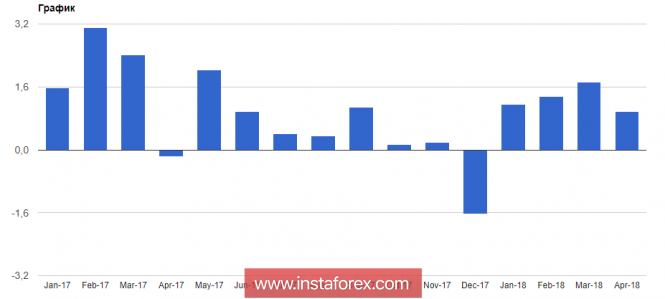 Data for March were revised. During that period, the foreign trade surplus amounted to 1.73 billion Australian dollars against 1.5 billion Australian dollars in the preliminary data.
The decrease in the balance was directly related to the fall in exports, which decreased by 2.0% compared to the previous month, while imports remained unchanged. Exports of coal fell by 7%, and exports of iron ore by 4%.
The Canadian dollar yielded a number of positions to the US dollar even after the release of good data, which indicated a reduction in Canada's foreign trade deficit in April this year.
According to the report, the deficit of foreign trade in goods in April fell to 1.90 billion Canadian dollars, while economists expected the deficit to be 3.4 billion Canadian dollars.
The material has been provided by InstaForex Company -
www.instaforex.com