Yesterday's speech by US Treasury Secretary Mnuchin and statements made by US President Donald Trump led to a new wave of strengthening the US dollar against a number of world currencies. Also, many investors are now waiting for the publication of the minutes from the last meeting of the Federal Reserve System, where special attention will be paid to the further terms of raising interest rates, as well as their number. The basic calculation is still at least two more increases this year. A number of representatives of the Fed also this week also spoke for three increases this year, manipulating good inflation data and a labor market that has reached historical levels.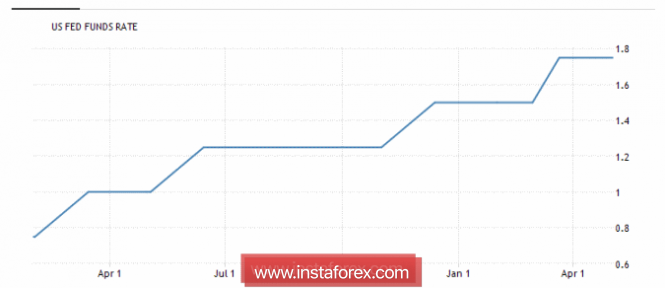 As I noted above, the US Treasury Secretary said yesterday that the White House will impose primary and secondary sanctions against Iran. However, the main issue concerned trade duties and relations with China.
According to Mnuchin, as for the Chinese company ZTE, the goal was not to dislodge this company from the business, but only to subject it to sanctions. It should be noted that, despite the preliminary agreement in part of this company, duties on the import of steel and aluminum will remain in force for China.
Mnuchin also said that the US president has a very strong position with regard to trade and national security, and deficits are something that requires special attention, along with economic growth.
Following the speech of the Minister of Finance, the US President made a number of statements, which, as a rule, were of an uncertain nature, but were interpreted by traders in favor of the US dollar.
Trump said that there was no final agreement with ZTE, and that he was not satisfied with the trade negotiations with China, adding that this was only the beginning. The US President also put forward demands that the company ZTE should change its leader and buy more American goods. Also, Trump is ready to impose a very large fine in respect of ZTE in the amount of 1-1.3 billion dollars.
Yesterday, there were also rumors that the US president plans to reduce the export of steel and aluminum from the EU to the US by 10%, which is good news for the European Union.
The results of the Fed's poll, according to which most Americans see stable improvements in their financial situation in the future, were also positive in the market. Many people are also optimistic about the labor market and their employment prospects.
The material has been provided by InstaForex Company -
www.instaforex.com