EUR / JPY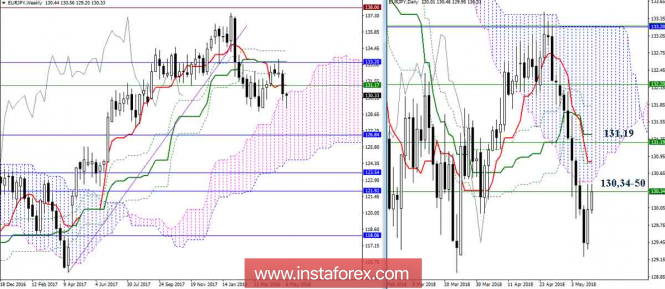 Senior timeframes
At the moment, we observe the development of an upward correction. For players on a downgrade, it is important that this rise has the result of a retest of the levels passed the day before. Among the most significant resistance in this case, it should be noted 130.34-50 (Senkou Span A days + Senkou Span A weeks) and 131.19 (week Tenkan + day Cross). Reliable consolidation above will change the existing balance of power in favor of bulls, having formed for the new prospects and landmarks.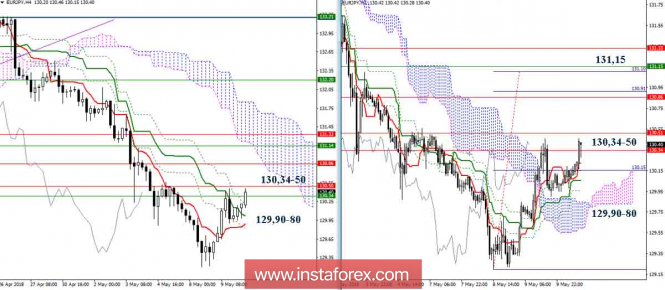 H4-H1
There is a zone of important resistance 130.34-50. The breakdown and consolidation above will largely form and strengthen the advantages of players to increase. Further, the plans of the bulls will include the fulfillment of the target at the breakdown of the H1 cloud and the ascent to the next important zone of resistance, formed by the combination of the cloud H4, the weekly Tenkan and the day cross (130.90 - 131.50). Support, the overcoming of which can affect the bullish plans, as well as return some important advantages to the side of the bears today are located in the area of 129.90-80. The fastening below can serve as the beginning of the formation of rebound from the encountered zone of resistance (130.34-50).
Indicator parameters:
All time intervals 9 - 26 - 52
The color of indicator lines:
Tenkan (short-term trend) - red,
Kijun (medium-term trend) - green,
Fibo Kijun is a green dotted line,
Chinkou is gray,
Clouds: Senkou Span B (SSB, long-term trend) - blue,
Senkou Span A (SSA) - pink.
The color of additional lines:
Support and resistance MN - blue, W1 - green, D1 - red, H4 - pink, H1 - gray,
Horizontal levels (not Ichimoku) - brown,
Trend lines - purple.
The material has been provided by InstaForex Company -
www.instaforex.com