Japan is the most indebted developed country in the world. At present, the country's debt is 2.4 times higher than the gross domestic product, according to data from the International Monetary Fund. In 2013-2017, Japan paid 7.4 trillion yen (68 billion USD) for servicing T-bonds of 630 trillion JPY. This means that the state saved 4.9 billion JPY ( $45 billion) if we compare the average debt servicing cost incurred in 2012.
The funds saved can be enough to pay the annual defense spending. All because of the quantitative easing conducted by the Japanese central bank. Loans costs thanks to this were in the vicinity (and even below) of zero. This is to help domestic entrepreneurs and encourage them to take out loans and increase spending. Nevertheless, the key question is how much the nation can borrow and how sustainable the existing debt is. By keeping borrowing costs low, the central bank aims to make it easier for companies to borrow and spend. It also relieves pressure on the government to achieve its target of stopping the increase in debt, as the BOJ has replaced the market in setting bond yields.
The Bank of Japan long-term inflation target is still at the level of 2.0%. If inflation will reach this level, the BOJ may start looking to normalize policy by cutting back asset purchases and raising interest rates. That would cause the cost of issuing new bonds to rise, worsening the nation's fiscal position. Moreover, the Japanese Yen would start to massively appreciate across the board in the currency market.
Let's now take a look at the USD/JPY technical picture at the H4 time frame. There is a possible Double Top formation at the level of 110.00, so the mid-term top might be in place already. Moreover, the market has fallen out of the rising channel, which confirms the negative outlook for the week. So far, the navy trend line provides the support, but in a case of a downside breakout, the next support is seen at the level of 108.81 and 108.62.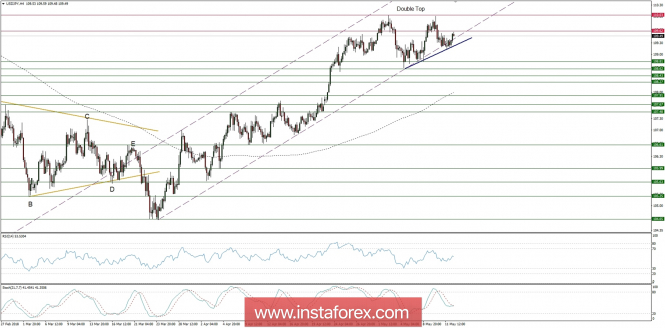 The material has been provided by InstaForex Company -
www.instaforex.com