Italy might become a serious problem with the newly elected parliament members
The Italian political scene has been unstable for decades as it was capable to establish 65 governments in 73 years, with only Berlusconi maintained power for a full term. The Constitution does not allow for effective governance and implementation of reforms. The result of yesterday's parliamentary elections, the winner of which is the anti-hostilities Movement of Five Stars threatens a long path because at the moment the only coalition is the marriage of the center-left with the mentioned Five-Star Movement. There is definitely a positive situation, but also the course of events can hardly be described as a shocking.Yet.
The tense political situation in Italy is mitigated by reports from Germany: the majority of SPD members agreed to form a government with the Christian Democrats, which crowns the process of several-month coalition talks and will allow Angela Merkel, who has ruled for twelve years, to create a fourth cabinet. However, the policy also does not help the US Dollar, because the return to protectionist rhetoric raises concerns about trade and currency wars. There is also a British Pound in the queue, which was heavily sold last week - optimists counting on the lack of Brexit or so-called soft Brexit experienced a collision with reality and more tense relations between London and Brussels. One can not forget about the weak position of Theresa May's cabinet on the national political scene.
Let's take a look at the EUR/GBP technical picture in the H4 time frame. In the case of the euro, the market participants do not expect political factors to take over again. Indeed, there should be a minimal increase in the credit risk valuation (the yield spread of debt of Italy and Germany should slightly widen), but it will not be able to dominate the quotes. Investors will quickly move to the expectation of key events at the end of the week, which is Thursday's meeting of the European Central Bank and data from the US labor market, which we will meet on Friday. Until then, the price should move inside of the consolidation zone between the levels of 0.8688 - 0.9017.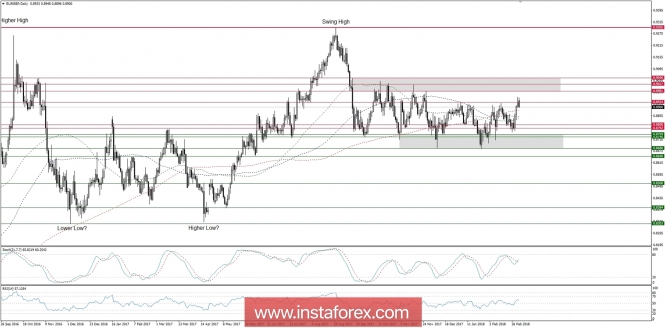 The material has been provided by InstaForex Company -
www.instaforex.com