The CPI data from the US was released in line with market expectations at the level of 0.1% but the fresh reading was lower than the last figure of 0.4%. On the yearly basis, the inflation dropped from 2.2% to 2.1% as expected. The biggest advance in core inflation data was noted in the ex-food and energy index (1.8% y/y vs 1.7% expected). The bad news is the real weekly earning data on the yearly basis are still very low at 0.7% although hourly earnings moved higher to 0.4% from 0.2%, they are still low.
In this situation, the Fed officials will not have enough justification to hike the interest rate more than three times in 2018, as expected. CPI serves as the headline figure for inflation. Simply put, inflation reflects a decline in the purchasing power of the Dollar, where each Dollar buys fewer goods and services. In terms of measuring inflation, CPI is the most obvious way to quantify changes in purchasing power. Inflation is generally bad news for the economy, causing instability, uncertainty and hardship. To address inflation, the Fed may raise interest rates. However, the Fed relies on the PCE Deflator as its primary gauge of inflation because the CPI does not account for the ability of the consumer to substitute out of CPI's set. Price changes tend to cause consumers to switch from buying one good to a less expensive-other, a tendency that the fixed-basket CPI figure does not yet account for. Given that the PCE Deflator is a more comprehensive calculation, based on changes in consumption; it is the figure the Fed prefers.
Let's now take a look at the USD/CAD technical picture at the H4 time frame. The market tried to rally above the technical resistance at the level of 1.2556 - 1.2598, but failed and returned to the short-term downtrend. The overbought market conditions indicate a possible test of the technical support at the level of 1.2485. The momentum indicator is still above its fifty level but is not pointing to the upside anymore, which supports the bearish view.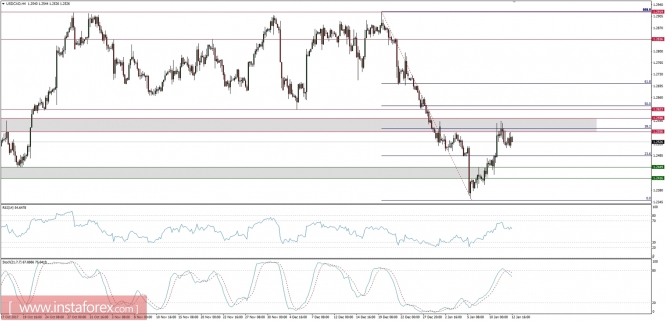 The material has been provided by InstaForex Company -
www.instaforex.com