From January 1, 2018, for the first time in over two decades, the German public debt clock began to move backwards, though not too fast - at a rate of only 78 euros per second. Reversal of the debt run of the clock is the result of changes in the federal and state budget policies.
Since 2014, Germany regularly generates a budget surplus, which is relatively small as it is on the scale of the economy. In 2015, the German fiscal surplus amounted to 19.4 billion euros, and in 2016 it increased to 25.7 billion euros. A surplus of EUR 30 billion is expected for 2018. Nevertheless, German public debt is still significantly higher than before the start of the financial crisis. At present, there are 23,827 euros of public debt per one German. In June 1995, when the German debt clock was activated, the indebtedness per capita was almost half as high and amounted to EUR 12 830. However, the ratio of public debt to gross domestic product fell to 66% (at the end of the second quarter of 2017) from 80% in 2012 and thus returned to the level of 2008.
In 2009-11, Germany had nearly 215 billion euros in fiscal deficits, which together with its contribution to rescuing the eurozone countries in the south (Greece), resulted in an increase in public debt from 1.67 trillion euros in 2008 to over 2.2 trillion euros at the end of 2012. But since then, Germany's debt has been decreasing not only in relation to GDP (from 80% to 66%), but also in nominal terms - to EUR 2.11 billion at the end of the second quarter of 2017.
Will this situation be more permanent and sustain trend in balancing the public debt of Germany? The indicators for the German economy suggest the high level of performance and elevated sentiment among the German business owners, so the current euro rally might not be actually without a macroeconomic reason.
Let's now take a look at the EUR/JPY technical picture on the H4 time frame. The market has just hit the upper line of the parallel channel around the level of 135.90 after a breakout above the technical resistance at the level of 135.64. The clear bearish divergence between the price and momentum in the overbought market conditions indicates a possible pullback towards the level of 134.78.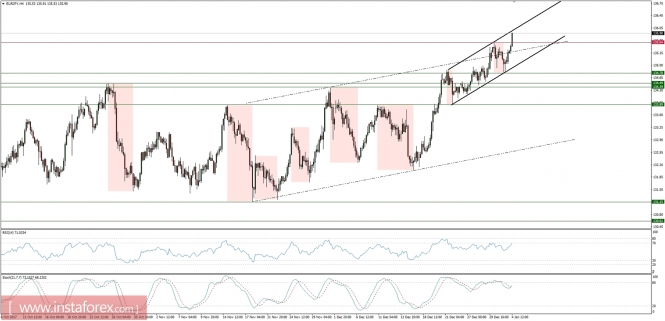 The material has been provided by InstaForex Company -
www.instaforex.com