Over the past month, Bitcoin's price has seen phenomenal increases, which was crowned by the Chicago Board Options Exchange (CBOE), which began trading Bitcoin futures on December 10th. At the same time, the price of gold fell. However, according to Jeffrey Currie, Head of Research for Goldman Sachs, the huge increase in Bitcoin prices did not have a major impact on the demand for gold. His comments in a recent Financial Times interview run counter to the analysis carried out last week by other financial experts.
In an interview, Currie added that these two assets have different investor pools. He also stated that Bitcoin's lack of regulation makes it difficult for traditional investors to enter the market. He claimed that Bitcoin and gold had a different characteristic, and their recent price movements result from the growing demand for assets. In addition, Currie added:"In our opinion, Bitcoin attracts more speculators than gold." An additional claim by Currie is that there is no clear evidence of mass deviation from gold. In confirmation of his words, he drew attention to the fact that the current portfolio of ETF funds is at the highest level for over four years. Currie also stated that while the lack of liquidity and the high volatility of Bitcoin may be beneficial to traders, the same features deter investors who prefer the benefits of gold diversification and security.
In addition to Currie, general manager of Goldman Sachs, Lloyd Blankfein, also recently commented on Bitcoin. At the beginning of November, he announced that although his bank still does not have Bitcoin-related products, he is still very interested in this leading cryptocurrency.
Let's now take a look at the Bitcoin technical picture at the H4 time frame. After establishing the local top at the level of $17,390, the market entered a corrective cycle and broke below the local support at the level of $15,952. The bulls have managed to close the H4 candle above the mentioned level, but the damage was done as the local low was now set at the level of $15,450. The next target for correction is the support at the level of $14,066.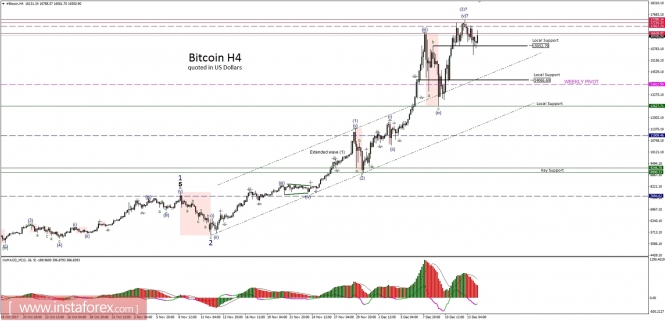 The material has been provided by InstaForex Company -
www.instaforex.com