Trading plan 23 - 10/27/2017
Catalonia, ECB, important news in the United States.
The beginning of the week is nervous because of Catalonia. Literally at the current hour (08.30 London time) in Catalonia, a meeting of leaders of separatists and authorities of Catalonia will begin to give Madrid's response to tough statements. The Prime Minister of Spain Rajoy demands to abolish the autonomy of Catalonia, in response to an attempt to declare independence of the region. In Catalonia, not earlier than a month ago there was a referendum, illegal from the point of view of Madrid about independence. Voted for separation from Spain, no more than 40% of the inhabitants of Catalonia but of those who voted 90% for independence. The crisis has not subsided yet and it weighs heavily on the euro.
The second event of the weekend is the elections in Japan. Won by the party of incumbent prime minister Shinzo Abe, a supporter of the active policy of economic growth (monetary pumping). The yen declined at the opening, but moderately.
The main event of the week is the ECB on Thursday. The market is waiting for the announcement of the ECB on the reduction in monetary pumping since January 2018 in 2 times.
In addition, the first reading of US GDP on Friday will be released, this is important.
There will also be a report on orders for durable goods in the US on Wednesday, October 25.
The pair EUR/USD is in a tight consolidation.
We are ready to move both up and down, taking positions to break the boundaries of the range.
Purchase for the breakthrough 1.1860 and 1.1880.
Sales for a breakthrough down 1.1728 and 1.1668.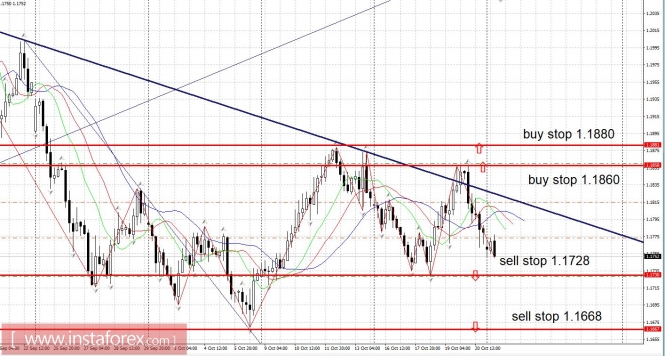 The material has been provided by InstaForex Company -
www.instaforex.com