Trading plan 10/27/2017
The overall picture: The EUR/USD rate flew down swiftly after the ECB.
Yes, it was. At the ECB's decision, the euro sharply turned down and broke through the important levels of 1.1720 and 1.1670 and fell to 1.1620 by Friday morning.
What was it? The ECB decided to cut the QE program twice from January, from 60 billion euros a month to 30 billion.
This was expected that the ECB allowed (intentionally, I believe) the merging of information in the media about this earlier.
Rates are saved (0% base and minus 0.4% deposits for banks). Also expected.
The ECB plans to keep the infusions until September 2018 and there "will see".
This does not explain the fall of the euro.
The crisis of Catalonia - Spain on Thursday reduced the tension. The authorities of Catalonia did not start to proclaim independence at the session of the parliament. It would seem that this is in favor of the euro.
I have two hypotheses. First, the strong data on the US economy, coming out recently, affected. Second, the major players decided that the euro has no potential above 1.2000.
Anyway, the euro went down and pulled the pound.
GBP/USD: The asset moved from growth to consolidation.
We play a way out of the range:
Purchases for a breakthrough 1.3280.
Sales for the breakthrough 1.3020.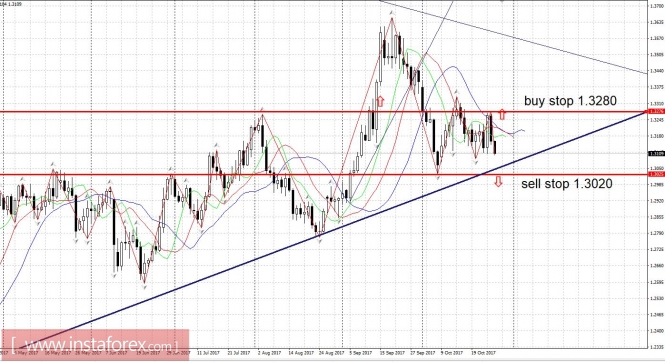 The material has been provided by InstaForex Company -
www.instaforex.com