Trading plan 10/18/2017
The overall picture - EUR/USD: We are preparing a breakout of the range for the Fed.
On Tuesday, trading on the market was calm in the absence of strong news.
Our recommendations are the same. We are waiting for the release of EUR/USD from the range and preparing inputs for a breakthrough. The output looks more likely to be lower, below 1.1668 but a breakthrough is possible above the level of 1.1880.
On Wednesday, at 19.00, there will be a report on the US economy FRS Beige Book. As always, the report goes 14 days before the Fed meeting. The market is waiting for a strong report indicating a gradual increase in inflation.
The euro is pressured by the expectation of a new wave of the Catalonia-Madrid crisis on Thursday. The deadline for an ultimatum, presented by the Spanish authorities in Catalonia.
We buy for the breakthrough of 1.1820 and for the breakthrough of 1.1880.
We sell from 1.1780 and on the breakthrough of 1.1668.
The stop-loss is 45 points. The purpose of the transaction is not less than 100 points.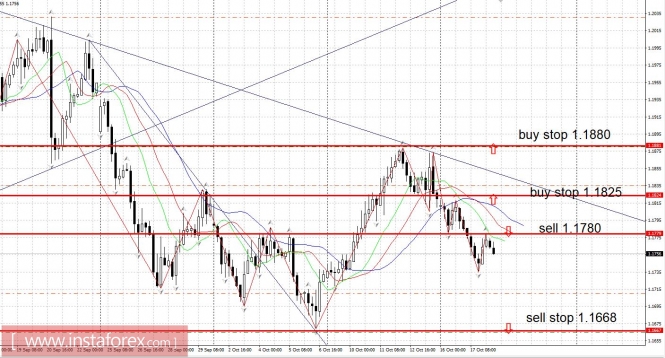 The material has been provided by InstaForex Company -
www.instaforex.com