Breaking forecast 10.06.2017
EURUSD: Strong signal to sell
On Friday morning, the EURUSD rate broke down the level of the daily order level of 1.1695 - this is a strong sell signal in terms of technical analysis.
Causes: The continuation of the crisis in Spain around Catalonia's demand for independence. The authorities of Catalonia threaten to proclaim independence "in the coming days". The Spanish central government strongly prohibit this and refuse to enter into negotiations. Proclamation of the independence of Catalonia - the richest region of Spain - will sharply hit the government bonds of Spain - and it will hit the euro.
The second reason for the decline in the euro is strong data on the US economy.
However, today there is likely a strong movement for EURUSD, as well as for other pairs- at 3:30 London time the report on the labor market in the US for September will be released. Analysts predict a significant decline in the number of new jobs:
Previous value of +156, 000 of new jobs, forecast + 100, 000 - the decline is due to significant destruction from hurricanes that devastated the USA.
However, according to the market's movement, it seems that the decline in indicators is already taken into consideration in the price, and if the indicators exceed the forecasts, the euro's rate will continue to fall.
Hold selling from 1.1695 (stop-loss 1.1740) - the target is 1.1500.
Alternative: Buy at breakthrough of 1.1790 upward.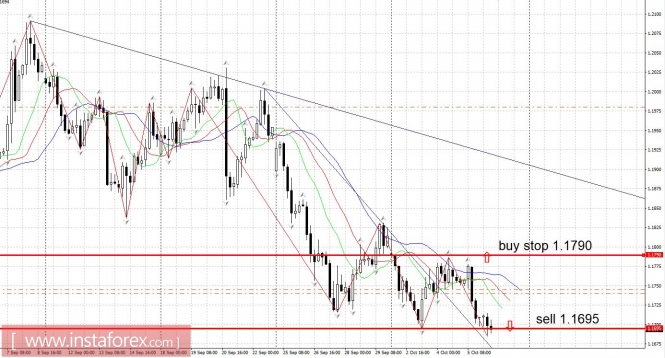 The material has been provided by InstaForex Company -
www.instaforex.com