Corrections for EUR/USD and GBP/USD indicates that investors have gone too far, buying euros and pound amid the "hawkish" comments of Mario Draghi and Mark Carney. After a few days, the BoE chief surprised the market with a "dovish" rhetoric as it signaled hiking interest rates. The condition of employment in the British economy, which is at full capacity, will be discussed at the next MPC meetings. As a result, the GBP/USD pair marked its best result since April, when Theresa May announced the general election and started to move near the psychologically important 1.3 level. Unfortunately, for the "bulls" the music did not last long.
According to the Office for National Statistics, the population of Albion faced the longest decline in purchasing power since the 1970s against the backdrop of the devaluation of sterling and rising consumer prices. This fact contrast with the likelihood of raising the interest rate in 2017 near a six-week high and at the same it causes people to participate in strikes. It is significant that one of them occurred inside the Bank of England, which last took place more than half a century ago. Over the past year, the salary of BoE employees has increased by only 1%, to which against the backdrop of the CPI accelerating to 2.9%, leads to a collapse in purchasing power.
The dynamics of inflation in Britain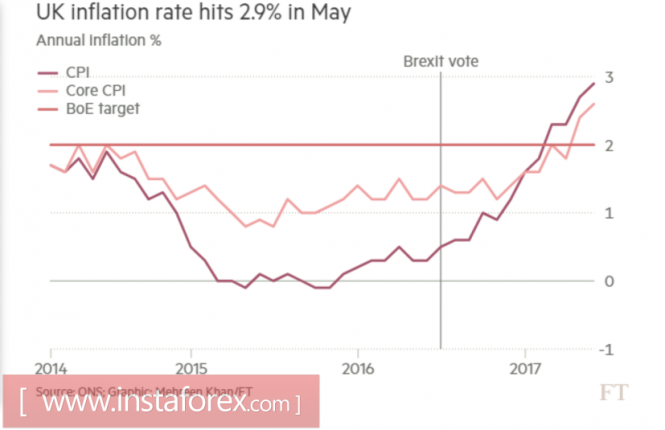 Source: Financial Times.
In such a situation, talking about tightening monetary and credit policy would be like pushing the economy towards a recession.
Thus, the BoE's intentions are clear , however, before taking decisions, the regulators must see improvements in the economy of Albion.
Technically, the GBP / USD is at a crossroads and on what exactly the pair chooses will have to depend on its medium-term prospects.
GBP / USD, daily chart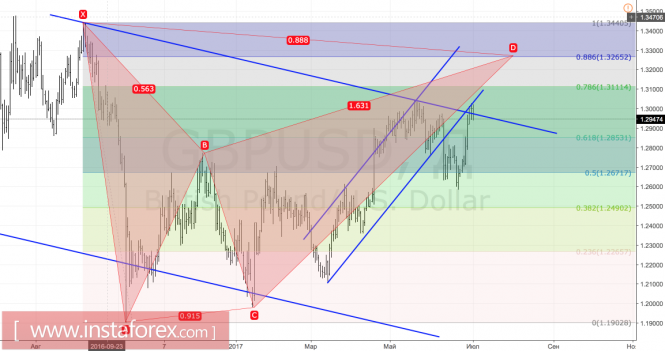 The material has been provided by InstaForex Company -
www.instaforex.com