Ethereum (ETH) is trading at 4,323 below the 21 SMA and below the strong resistance at 4,375. We can consider this bounce from the low of 3,949 as a new opportunity to sell.
As Ethereum is trading below the 21 SMA located at 4,500, it indicates the possibility that it will continue its fall. Ethereum is expected to continue its correction movement in the next few hours towards 4/8 of murray at 3,750.
On November 18, it reached the low of 3,943, returning to the price levels of October 28. From this low, Ether has been rebounding until it reaches the strong resistance of 4.375, where it is located 6/8 of a murray.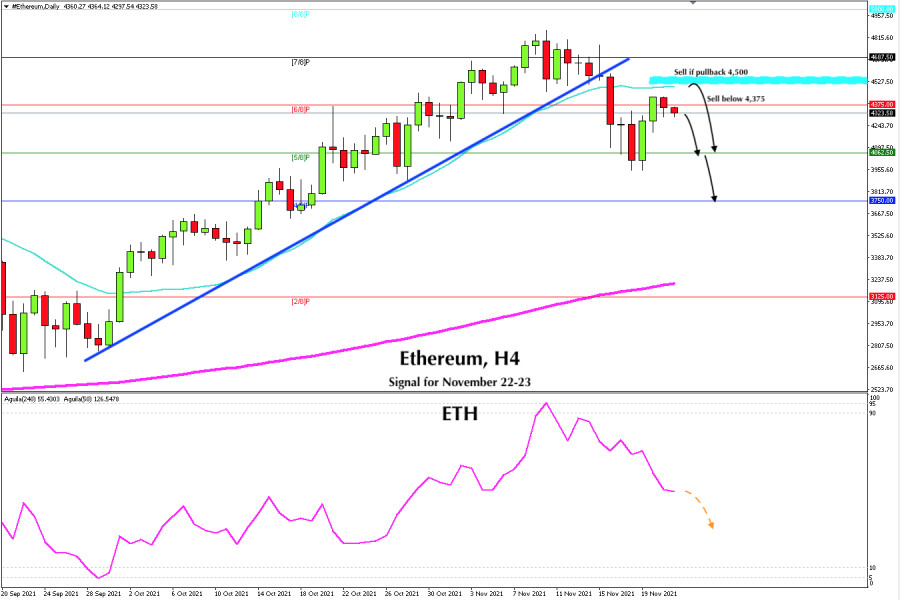 On November 16, Ether entered a bearish phase. Because it is trading below the 21-day moving average, the short-term outlook is bearish. It is likely that over the course of the next few days it will be trading below this zone, targeting the 200 EMA located at 3,250.
The eagle indicator touched the 95-point zone on November 7 that is an extremely overbought mark. Ether is likely to continue trading below the high of 4,863 and could continue the correction in the next few days.
Our trading plan for the next few hours is to sell between the two levels below 6/8 (4,375) or SMA (4,500), with targets at the psychological level of 4,000 and up to the level of 3,750 which represents a key support.
Ethereum is likely to continue is a bearish move for my next few days, as long as it remains below the 21 SMA and below the 6/8 murray.
Support and Resistance Levels for November 22 - 23, 2021
Resistance (3) 4,559
Resistance (2) 4,428
Resistance (1) 4,375
----------------------------
Support (1) 4,166
Support (2) 4,062
Support (3) 3,952
***********************************************************
A trading tip for ETHfor November 22 - 23, 2021
Sell bellow 4,375 (6/8) with take profit at 4,062 (5/8) and 3,750 (45), stop loss above 4,550
The material has been provided by InstaForex Company -
www.instaforex.com