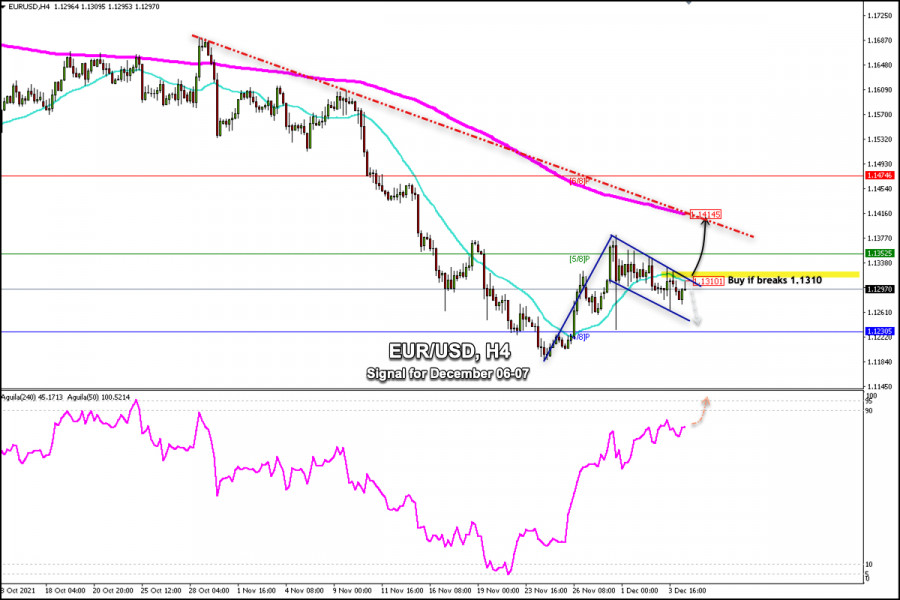 Since November 30, EUR / USD is oscillating within the bullish pennant pattern. This technical pattern flag is in progress, which signals a potential upside. Only if it manages to break and consolidate above 1.1310, the pair could rise to the 200 EMA at 1.1414.
On the 4-hour chart, you can see the formation of a bullish pennant technical pattern. The confirmation of a sharp break above 1.1310 will be the beginning of an upward movement with targets at the 200 EMA located at 1.1414.
Investors seem to be convinced that the Fed will be forced to adopt a more aggressive policy response to contain the increase in inflation that has been already at the highest level in more than 30 years. A more aggressive announcement from the Fed could generate a sharp fall in the euro to the support level of 1.1116 and to the psychological level of 1.10.
Our forecast in the next few hours for the euro is a consolidation above 1.1310. As long as EUR / USD is trading above this zone, we will have an opportunity to buy with the target at 1.1352 (5/8) and 1.1414 (200 EMA).
The market sentiment report for today, December 06, shows that there are 63.76% of operators who are buying the EUR / USD pair. This data provided a bearish sign in the long term. It is bearish because investors act against the trend. First, we could expect a recovery to 1.1414. Then, the price may again resume its downward movement with the target at 1.1116.
The eagle indicator is showing a bullish signal. There is a little distance until it reaches the 95-point level that represents an extremely overbought market. This would suggest that the euro will reach 1.14. and then resume its main downtrend.
Support and Resistance Levels for December 06 - 07 2021
Resistance (3) 1.1403
Resistance (2) 1.1368
Resistance (1) 1.1337
----------------------------
Support (1) 1.1270
Support (2) 1.1230
Support (3) 1.1203
***********************************************************
A trading tip for EUR/USD on December 06 - 07, 2021
Buy in case of a breaks above 1.1310 (21 SMA) with take profit at 1.1414 (200 EMA) and 1.1474 (6/8), stop loss below 1.1275.
The material has been provided by InstaForex Company -
www.instaforex.com