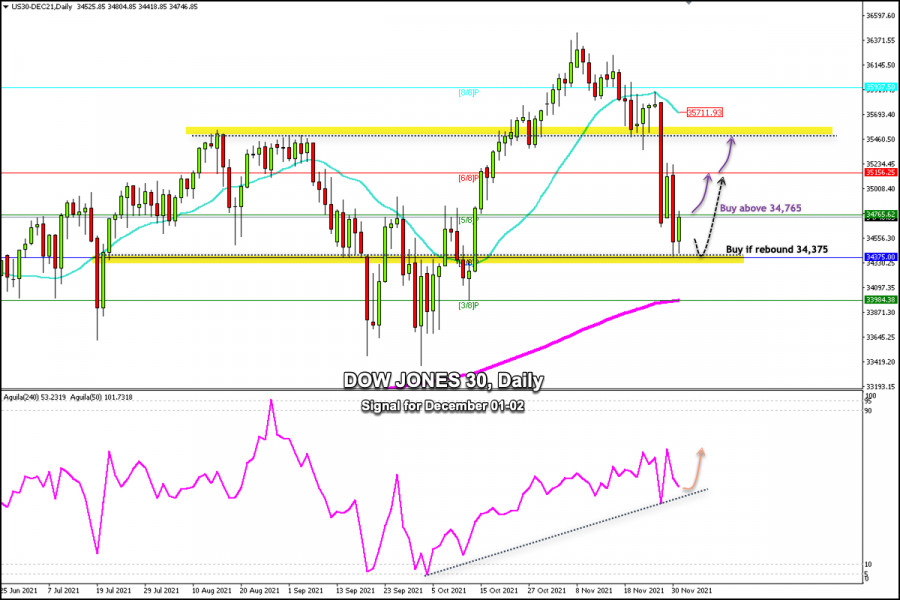 The Dow Jones Industrial Average 30 (#INDU) fell to a low of 34,386 points on Tuesday. At this point in writing, it is bouncing and is approaching 5/8 of Murray.
Strong support sits at 34,375. This level coincides with the 4/8 Murray line which is technically a pivot point of inflection. If in the next few days, the DJ30 falls and makes a technical rebound, it will be a good opportunity to buy with targets at 34,765 and up to 6/8 of Murray at 35,156.
Strong resistance stands at 35,500. In the months of July to September, this level was a barrier for the Dow Jones. This level is expected to show its strength and may enable the index to resume its main downtrend.
Also, if the DJ30 recovers and rises to the SMA of 21 located at 34,711, and fails to break it, it will be a good opportunity to sell with targets at 35,156 and up to 34,375.
The trend is bearish according to the daily chart. As long as it remains above 34.375 (4/8), a recovery of the Dow Jones average is expected in the coming days.
Our forecast in the next few hours for the Dow Jones is a consolidation above 34,765. As long as DJ30 is trading above this zone, we will have an opportunity to buy with the target at 35,156. If 6/8 is broken, we could buy with targets at 35,500 (strong resistance).
The market sentiment report for today, December 01, shows that there are 44.15% of operators who are buying the Dow Jones. This data provided a bullish sign in the short term. Therefore, the price may again resume its upward movement with the target at 35,500. The confirmation will happen if it consolidates above 34,765.
Support and Resistance Levels for December 01 - 02, 2021
Resistance (3) 35,504
Resistance (2) 35,156
Resistance (1) 35,035
----------------------------
Support (1) 34,375
Support (2) 34,192
Support (3) 33,984
***********************************************************
A trading tip for DJ30 December 01 - 02, 2021
Buy above 34,765 (5/8) with take profit at 35,156 and 35,500 (strong resistance), stop loss below 34,680.
The material has been provided by InstaForex Company -
www.instaforex.com