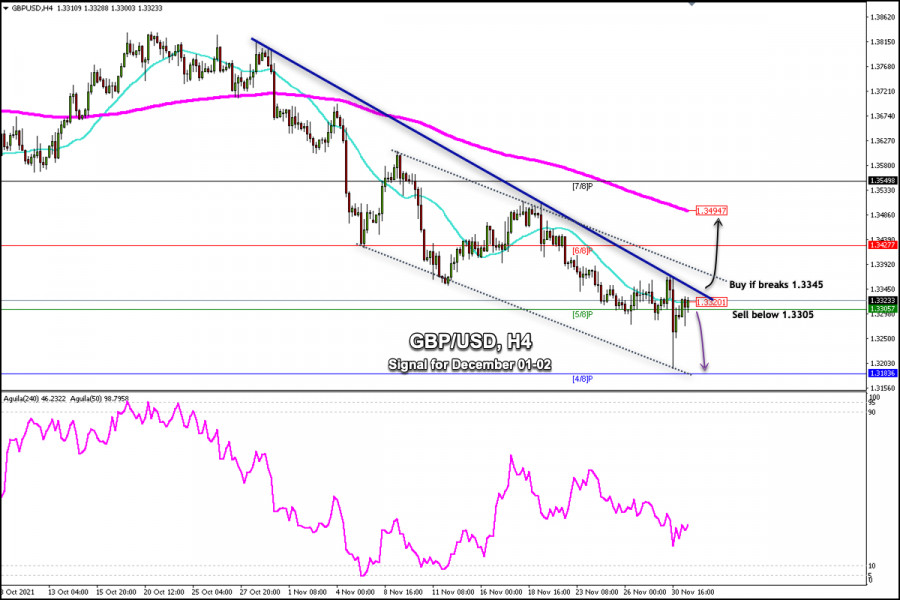 On November 30, GBP/USD fell to the price levels of December 20, 2020, when it reached a low of 1.3193 just around strong support at 4/8 Murray. From that level, the British pound has been rebounding and is now above the 21 SMA.
According to the 4-hour chart, the GBP / USD pair, since October 27, continued to trade below the downtrend channel. Just a break and consolidation above 1.3345 could be the start of a sustained rally in the pound.
Conversely, below 5/8 Murray around 1.3305, it could resume the downtrend and fall back towards 1.3183 (4/8).
We can see the formation of a second bearish channel that was confirmed yesterday when GBP/USD reached the bottom around 1.32. The top of this channel is located at 1.3355. If GBP manages to break it, then the path will be clear of obstacles until the EMA of 200 located at 1.3494.
Our forecast in the next few hours for the British pound is a consolidation above 1.3320. As long as GBP/ USD is trading above this zone, we will have an opportunity to buy with the target at 1.3427. If 6/8 is broken, we could buy with targets at 1.3494 (200 EMA).
The market sentiment report for today, November 29, shows that there are 72.89% of operators who are buying the GBP/ USD pair. This data provided a bearish sign in the short-term (It is bearish because investors act against the trend). Therefore, the price may again resume its downward movement with the target at 1.3183. The confirmation will happen if it consolidates below 1.3305.
The eagle indicator is showing a bullish bias, moving above a trend channel. A recovery is likely to follow in the coming days as long as the pair remains above 1.3320.
Support and Resistance Levels for December 01 - 02, 2021
Resistance (3) 1.3538
Resistance (2) 1.3427
Resistance (1) 1.3378
----------------------------
Support (1) 1.3254
Support (2) 1.3202
Support (3) 1.3109
***********************************************************
A trading tip for GBP/USD December 01 - 02, 2021
Buy if breaks 1.3345 (downtrend channel) with take profit at 1.3427 and 1.3494 (200 EMA), stop loss below 1.3312.
The material has been provided by InstaForex Company -
www.instaforex.com