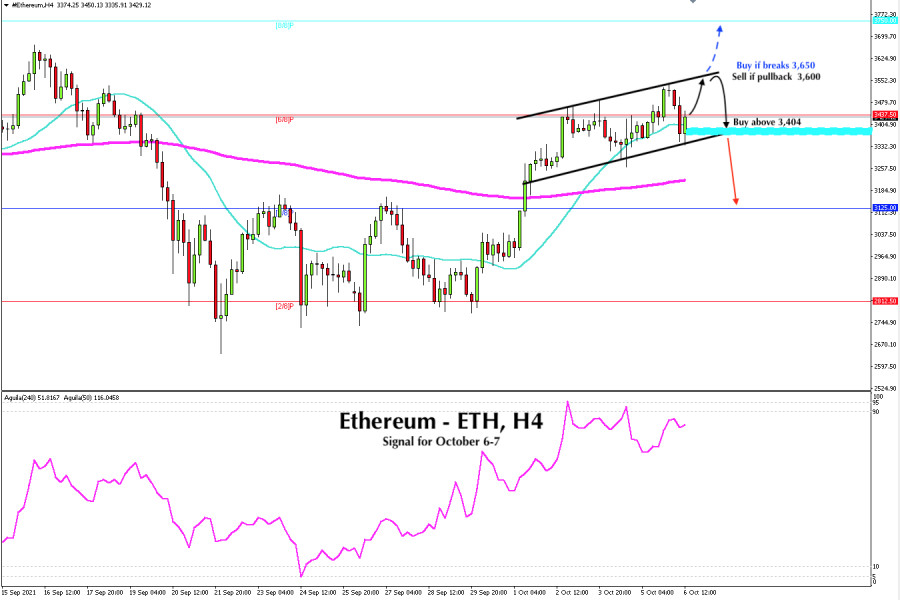 On a 4-hour chart, Ethereum's price is trading within an uptrend channel, below the key resistance 6/8 murray, and above the 21 SMA. There is a balance between supply and demand if the Ethereum is below 3,400. Only a consolidation above 6/8 murray could favor the upward movement to the level of 3,600, where the top of the bullish channel is located.
From September 20 to September 30, ETH was trading in a range zone of 2,812 - 3,150. After several days of consolidation, on October, 1 it sharply broke the top of the range and climbed above the EMA of 200. It is still trading in the same manner today, adding a bullish outlook for Ethereum in the medium term.
The bullish movement is expected to continue, but BTC has reached a key overbought level below 53,000. If it makes a downward correction, ETH, which is correlated with the flaghsip cryptocurrency, could suffer a decline, until the EMA of 200 located at 3,125.
On the contrary, only a break of the uptrend channel and consolidation above 3,600, the next target, will be the level of 3,750 where there is the strong resistance of 8/8 of murray.
As investors are cautious and nervous about the data that will be published on Friday with the NPF of the United States, they are likely to take profits or liquidate their buy positions. Then, we should expect a consolidation of ETH below 3,400 with a target at the 200 EMA located at 3,200 and up to pivot point of 4/8 Murray at 3,125.
The eagle indicator is showing an overbought signal. A negative divergence is observed, which means that the volume and strength of the market is decreasing, so selling below the top of the bullish channel around 3,600 will be a good strategy.
Support and Resistance Levels for October 06 - 07, 2021
Resistance (3) 3,674
Resistance (2) 3,582
Resistance (1) 3,465
----------------------------
Support (1) 3,287
Support (2) 3,125
Support (3) 2,966
***********************************************************
Trading tip for Ethereum for October 06 - 07, 2021
Buy above 3,404 (SMA 21) with take profit at 3,600 and 3,750(8/8), stop loss below 3,320.
The material has been provided by InstaForex Company -
www.instaforex.com