EUR/USD
Analysis:
As a result of the six-month price rise, the euro quotes reached the borders of a strong resistance zone of a large timeframe. Since the end of July, the price has been moving mostly sideways, forming a corrective plane. Since the beginning of this week, the price has been frozen in a narrow corridor.
Forecast:
In the coming day, a general flat mood is expected, with an expansion of the range of the price move. In the first half of the day, the upward vector of the pair's movement is more likely. In the next session, a short-term decline in the support area is not excluded.
Potential reversal zones
Resistance:
- 1.1900/1.1930
Support:
- 1.1830/1.1800
Recommendations:
It is better to reduce the size of the trading lot. Purchases of the pair remains the priority.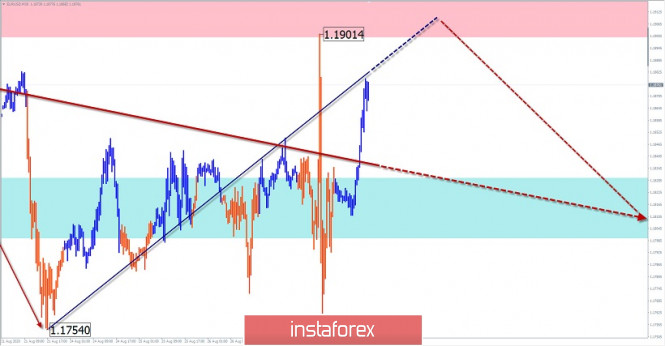 USD/JPY
Analysis:
The direction of short-term trends of the Japanese yen since June 5 is set by the descending wave algorithm. In its structure, the final part (C) started on August 12. Within its framework, the internal correction is nearing completion. The downward movement that started this morning has a reversal potential.
Forecast:
The final descending segment is expected to start in the next day. In the European session, a short-term price rise to the resistance zone is not excluded. At the end of the day, it is possible to accelerate the rate of decline, with a break through the boundaries of the nearest support.
Potential reversal zones
Resistance:
- 106.50/106.80
Support:
- 105.90/105.60
- 105.20/104.90
Recommendations:
Today, there are no conditions for buying the yen. It is recommended to track all emerging sales signals of the instrument.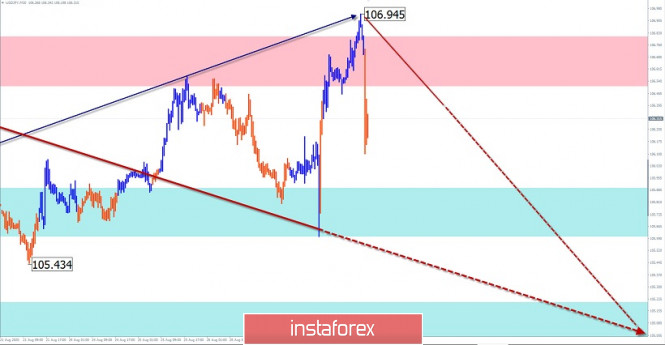 Explanation: In the simplified wave analysis (UVA), waves consist of 3 parts (A-B-C). The last incomplete wave is analyzed. The solid background of arrows shows the formed structure, and the dotted ones show the expected movements.
Note: The wave algorithm does not take into account the duration of the tool movements in time!
The material has been provided by InstaForex Company -
www.instaforex.com