The presented provisional US GDP data for the second quarter showed all the sad state of the country's economy, which has experienced a spring closure period against the background of a coronavirus pandemic, as well as huge losses that may be eliminated for a considerable period of time.
According to the published statistics, the US economy fell by 32.9%, which is slightly better than the consensus forecast for a decline of 34.1%, but still cannot serve as some reassurance for investors. Of course, the numbers reflect what happened and do not guarantee that this state of affairs will continue in the third and fourth quarters. On the contrary, after already finding the bottom in the wake of the industrial production of vaccines for COVID-19, it will be possible to observe a sharp recovery in economic activity, accompanied by positive moods in the global financial markets.
In addition to the data and GDP from America, the GDP values of Germany also came out on Thursday, which were also negative, but not as much as in the States. The German GDP in quarterly terms declined by 10.1% against the forecast of decline by 9.0%. As can be seen when comparing the absolute values of the US and FRG GDP, here, if I may say so, Germany is in a more advantageous position. And when comparing the potential strength of the euro and the dollar, the former clearly wins. We expect that the strengthening of the European currency against the US currency one will only intensify in the short-term. It is also likely to decline against the pound, yen and franc, but if negative trends continue and the commodity market experiences pressure, the dollar may receive limited support against the Australian, New Zealand and Canadian dollars. On the other hand, currencies of developing countries will be under pressure, not only from the dollar, but also from the Euro.
Now, let's go back to the likely dynamics of the dollar against major currencies with the exception of commodities. Here, previously known factors will play against it: massive quantitative easing programs, the actual use of the dollar as a funding currency, as well as a new foundation - in fact, the disastrous state of the US economy, which may experience another shock from the presidential elections in the fall, when the confrontation between the Democrats and The Republicans will reach its climax and may result in direct clashes with all the resulting problems not only for America, but also for the entire world.
Forecast of the day:
The EUR/USD pair is trading above the level of 1.1850 amid global weakness in the US dollar. It will most likely continue to rise to 1.1950 if it consolidates above 1.1850.
The GBP/USD pair also has all chances to continue its rise to the level of 1.3200 if it holds above 1.3100.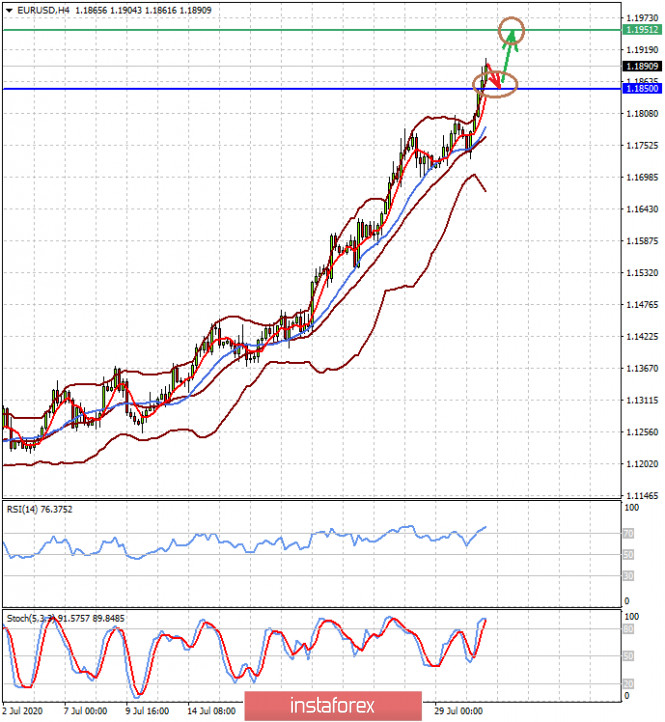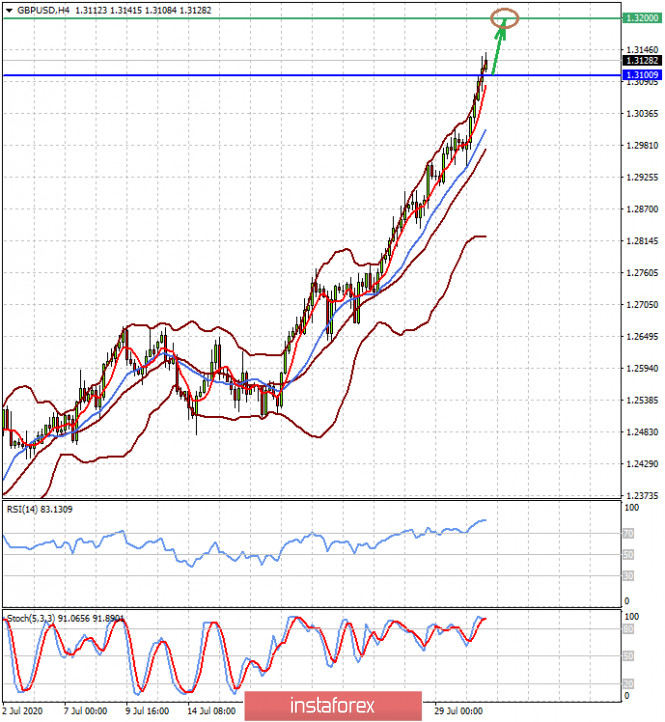 The material has been provided by InstaForex Company -
www.instaforex.com