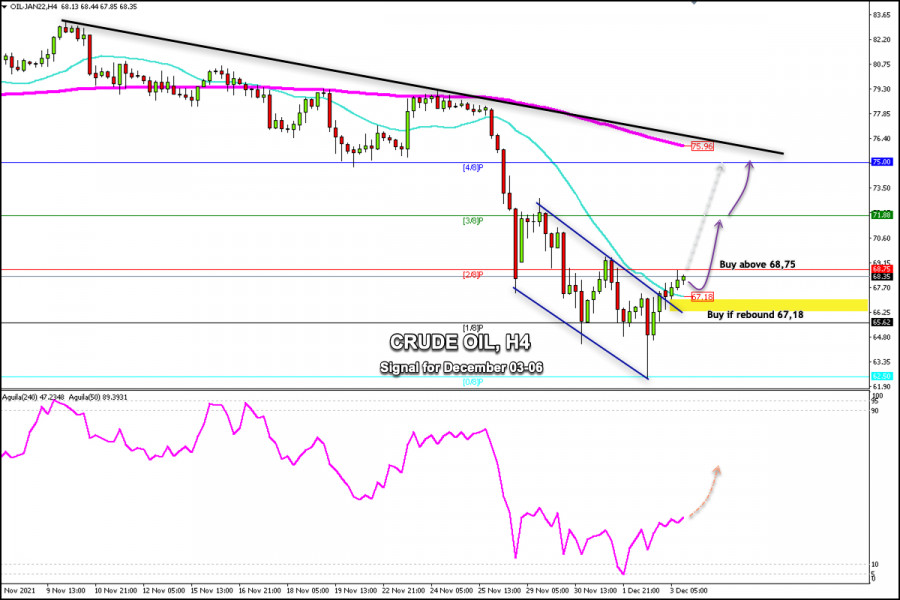 On December 2, crude oil (WTI- #CL) fell to the low of 62.50. This was the price level on August 23rd. It has recovered over 500 pips and is currently trading at 68.35 and consolidating above the 21 SMA and above the downtrend channel that was broken.
This sharp drop in WTI that occurred yesterday was due to the decision of the Organization of the Petroleum Exporting Countries and its allies (OPEC +) to continue with the increase in production levels expected for January.
The OPEC+ was expected to announce a pause in the pace of WTI production due to the impact of the Omicron variant and after the US and other countries released oil from their strategic reserves. The news took traders by surprise, and for this reason, WTI dropped to 62.50.
This strong rebound of more than 5 dollars in the price of Crude Oil in the last 24 hours encourages investors to think that it will be a monthly support zone. In the future, an eventual drop in WTI will give us a good chance to buy back at those low-price levels.
As long as it remains above the 21 SMA located at 67.18, Crude oil continued to rise to the resistance of 71.88 and up to the 200 EMA located at 75.96.
Our trading plan is to buy crude if it makes a technical bounce at 67.18 or above 68.75, with targets at 4/8 of murray at 75.00.
Support and Resistance Levels for December 03 - 06 2021
Resistance (3) 71.60
Resistance (2) 70.79
Resistance (1) 69.07
----------------------------
Support (1) 67.19
Support (2) 65.75
Support (3) 64.01
***********************************************************
A trading tip for CRUDE OIL on December 03 - 06, 2021
Buy in case of a rebound at 67.18 (21 SMA) with take profit at 71.88 (3/8) and 75.00 (4/8), stop loss below 66.50.
The material has been provided by InstaForex Company -
www.instaforex.com