Discontent with the actions of the Securities and Exchange Commission (SEC) and its head Gary Gensler seems to be brewing among the participants of the cryptocurrency market.
Fidelity Investments, the largest asset manager in the United States, has launched its first bitcoin spot ETF in Canada on Wednesday as the SEC continues to reject applications for spot funds.
Crypto Industry vs Gensler
The crypto community claims that the Commission, under Gensler's leadership, is performing its function of "protecting investors" in a very strange way.
For example, it seems rather suspicious that Gensler gave the green light to bitcoin futures ETFs instead of spot ones. It could of course be argued that the futures ETF only caters to large institutions and is definitely not suitable for small retail investors.
However, this futures instrument can be used to short Bitcoin. Experts suggest that this is the real reason why these particular tools were chosen. They can be used to manipulate the price of bitcoin.
On Friday, another application for the spot BTC-ETF, this time from WisdomTree, was rejected. Jake Chervinsky, head of policy for industry lobbyist The Blockchain Association, commented on the rejection:
"I wonder how long before one of the spot bitcoin ETF sponsors gets sick of arguing with a brick wall and decides to sue the SEC. I get why nobody did this before, but the case is stronger now with futures ETFs live, and the incentive to play nice is much weaker."
How Gensler Protects Investors from Fraud and Stifles Innovation
Gensler this week said the SEC would "use a coercive tool" against exchanges. He noted that even highly regulated exchanges like Kraken and FTX are not regulated as securities exchanges.
With so many coercive warnings and a long-held belief that virtually all of the crypto industry is violating securities law, the SEC has been holding back the most innovative technologies since the Internet.
For the SEC, the purported investor defender, struggling to bring cryptocurrency down is an absolute contradiction. Experts note that the current monetary system works completely against small investors. It is simply wrong to use the rules and regulations of this system for an innovative and disruptive system like cryptocurrency.
Cryptocurrencies Are Holding On with All Their Might
Bitcoin, meanwhile, very accurately and clearly works out the boundaries of the narrow sideways 55,842.84 - 59,283.67. But one cannot say that his support will not be broken.
Therefore, the forecast for BTCUSD remains the same: consolidation in the 55,842.84 - 59,283.67 corridor or its expansion to the support area of $52,000 - $53,000 per coin.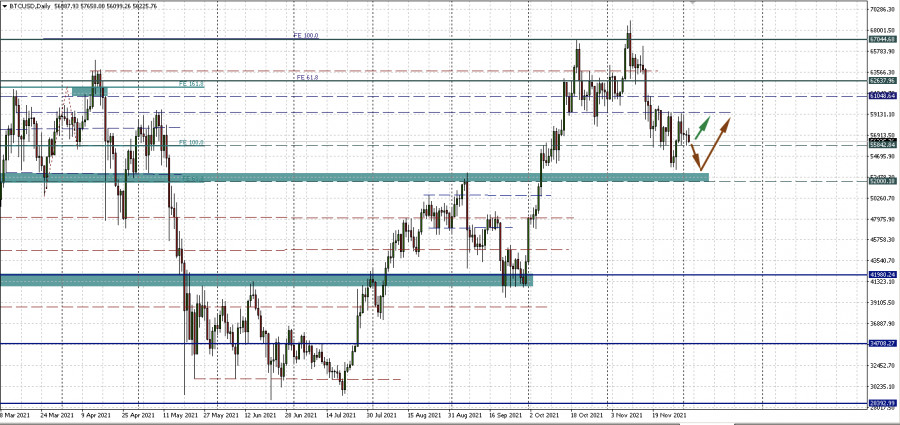 The material has been provided by InstaForex Company -
www.instaforex.com