On November 17, USD / JPY hit a high of 1.1496 around 7/8 murray. This level represents a technical reversal zone seen in recent hours falling below the 21 SMA.
In our analysis on November 17, referring to the daily chart, we explained the reasons why the Japanese yen should fall towards the support at 113.86. You can review this article through this link and get some tips that will be useful for your strategy.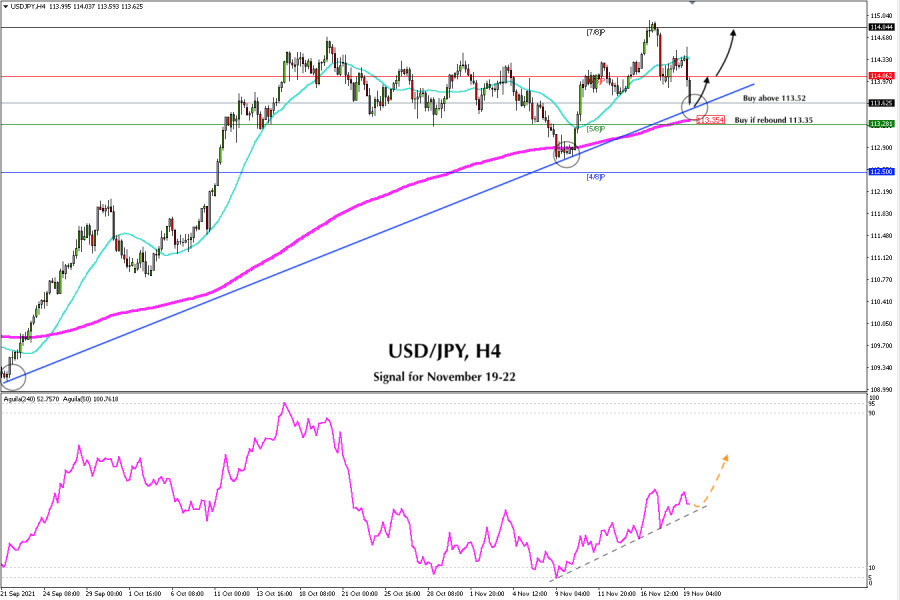 The Japanese yen could put its strength at risk seen in the last hours. Japan's government will inject massive supply of the yen into the market as a fiscal stimulus package against COVID-19 crisis.
This package is intended to revitalize the Japanese economy and in turn could further weaken the Japanese currency. So, we could see an upward movement in the short term towards the level of 117.00 or even to the psychological level of 120.00
The uptrend formed on September 29 remains intact for the Japanese yen. This morning of the American session, USD/JPY is testing the bottom of the trend channel. In the next few hours, a technical rebound is expected towards the SMA of 21 located at 114.30.
The short-term outlook continues to be bullish as long as the pair remains above the 200 EMA located at 113.35. Any pullback will be considered a technical correction and it could be a good opportunity to continue buying the yen in the coming days.
Our trading plan is to buy if the pair rebounds off 113.50 with targets at 114.06 and up to 114.84. A consolidation above the EMA 200 located at 113.35 will be a signal to buy the yen again with targets at 115.62.
Support and Resistance Levels for November 19 - 22, 2021
Resistance (3) 114.32
Resistance (2) 114.06
Resistance (1) 113.89
----------------------------
Support (1) 113.57
Support (2) 113.28
Support (3) 112.97
***********************************************************
A trading tip for USD/JPY for November 19 - 22, 2021
Buy above 113.52 (uptrend channel) with take profit at 114.06 (6/8) and 114.84 (7/8), stop loss below 113.15.
The material has been provided by InstaForex Company -
www.instaforex.com