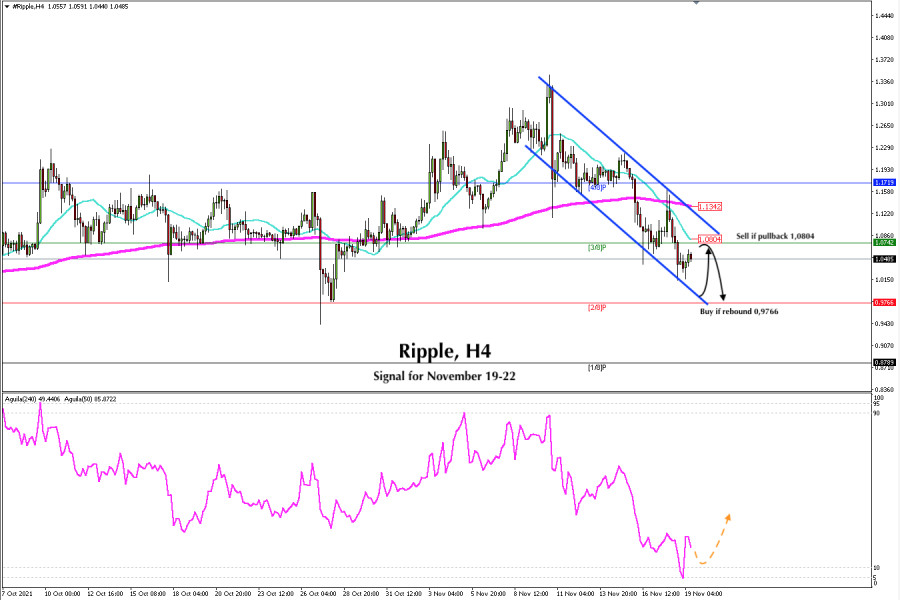 Since November 10, the price of Ripple (XRP) has been trading within a downtrend channel. In the European session, the bottom of this downtrend channel has been tested.
The bounce is expected to continue towards the 21 SMA located at 1,0804. A pullback around 3/8 from Murray and the 21 SMA will be a good opportunity to sell in the next few hours.
XRP price has settled just below the 21 SMA and below the 200 EMA located at 1,1342 showing a bearish bias. Bearish pressure is likely to continue for the next few days towards the 2/8 murray support around 0,9766.
On November 18, the eagle indicator reached the extremely oversold zone of around 5 points. This means that XRP could recover some of the losses in the next few hours. We should wait for a good point to sell at the resistance of 1,084 or the 200 EMA at 1,1342.
A selloff in BTC pushing it to the psychological 50,000 level will likely cause XRP to drop due to the direct correlation. In that case, market participants can expect Ripple to fall to the psychological level of $ 1,00
On the other hand, a close on 4-hour charts above 1,1342 will be the start of a bullish move and we could expect a return towards the resistance level of 1,3360.
Support and Resistance Levels for November 19 - 22, 2021
Resistance (3) 1,1719
Resistance (2) 1,1318
Resistance (1) 1,0816
----------------------------
Support (1) 0,9823
Support (2) 0,9253
Support (3) 8,8789
***********************************************************
A trading tip for RIPPLE for November 19 - 22, 2021
Sell in case of pullback at 1,0804 (SMA 21) with take profit at 0,9766 (2/8), stop loss above 1,10.
The material has been provided by InstaForex Company -
www.instaforex.com