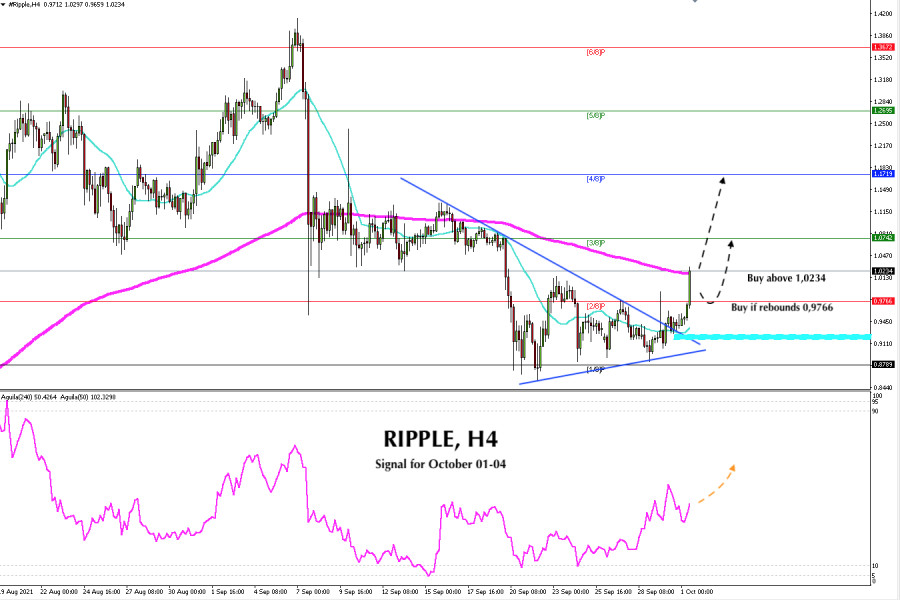 After breaking the symmetric triangle pattern, Ripple rose rapidly until the EMA of 200. Meanwhile, a strong bullish movement is observed. A consolidation above 1.02 can be a sign of a new bullish wave and in the short term the price could reach 1.1719.
This last quarter of the year all cryptocurrencies opened positively. Bitcoin in a few hours rose almost 4,000 dollars, having advanced more than 9%. Ripple was also encouraged by the upward momentum of BTC. Now it is consolidating above the psychological level of $ 1.
It could be a liquidation of their buy positions from big investors that looks like the fall of BTC and other cryptocurrencies. We will only know if Ripple consolidates above the 200 EMA, and it may suggest that the market is more optimistic and it could rise to the level of 1.36, the high of September 7.
On the contrary, a return below the 200 EMA located at 1.0230 will mean a profit taking from investors and we can expect a new bearish cycle to buy again which will add downward pressure. The price could fall back to support of 1/8 of murray located at 0.8789.
The inverse correlation that exists between the US dollar and cryptocurrencies has given strong momentum to BTC and other cryptocurrencies such as Ripple as a result of the labor data published on Thursday. The weekly update showed that the number of applications for continuing unemployment benefits stagnated around 2.8 million for five consecutive weeks.
This data increased the provisional appetite of investors for Bitcoin and other cryptocurrencies. We must expect a consolidation above 1.02. In case we buy Ripple, our target will be located at 1.0742 (3/8) and up to 1.1719. This will represent a gain of more than 20%.
Support and Resistance Levels for October 01 - 04, 2021
Resistance (3) 1.1719
Resistance (2) 1.0615
Resistance (1) 1.0184
----------------------------
Support (1) 0.9901
Support (2) 0.9583
Support (3) 0.9363
***********************************************************
Trading tip for RIPPLE for October 01 - 04, 2021
Buy above 1.0234 (EMA 200) with take profit at 1,0742 and 1,1719, stop loss below 0,9901.
Buy if it rebounds at 0,9766 (2/8) with take profit at 1,0742 and 1,1719, stop loss below 0,9363.
The material has been provided by InstaForex Company -
www.instaforex.com